High-heeled shoes
are shoes which raise the heel of the wearer's foot significantly higher than the toes. When both the heel and the toes are raised, as in a
platform shoe
, it is generally not considered to be a "high-heel." High-heels come in a wide variety of styles, and the heels are found in many different shapes, including stiletto, block, tapered, blade, and wedge.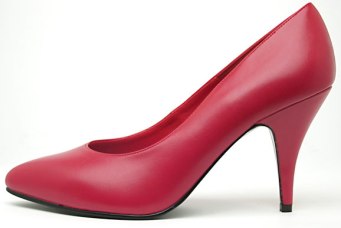 High-heels today
Today, high-heels are typically worn in public only by women, who may wear high-heels at work or on formal occasions. High-heels have seen significant controversy in the medical field lately, with many podiatrists seeing patients whose severe foot problems have been caused almost exclusively by high-heel wear.
Today's high-heels, regardless of the heel's shape, are generally limited to women's footwear. Some men's footwear, such as cowboy boots and shoes with a Cuban heel are considered by some to be a high-heel, even though neither tops 3" in the heel. What height constitutes a "high-heel" has long been a point of contention between those who wear very high-heels and those who wear lower heels. Most high-heeled shoes have heels between 2" and 3". Less popular are shoes with higher heels, such as those above 4". Extremely high-heeled shoes, such as those higher than 5", are effectively worn only for display, and typically for the enjoyment of shoe fetishists and/or the wearer.
There are many reasons why women desire to wear heels, including:
the change in angle of the foot with respect to the lower leg becomes elongated, and accentuates the appearance of calves
they make the woman appear taller (which may be considered by the wearer to be either an advantage or a disadvantage)
one's legs look longer, which some may consider sensuous
the change in gait and posture thrusts the buttocks backwards, and causes the hips to sway more which some find sexually attractive
many heels, particularly sandals, make the sole of the foot visible.
stiletto heels appear to some as a phallic symbol
However, many women shun these shoes because:
high-heels become painful to wear, particularly for long periods
they shorten the woman's stride, thus restricting free movement
they render the woman unable to run, and hence more vulnerable
they damage the woman's feet and tendons when worn over long periods (see below)
progressively higher heels are progressively riskier and more difficult to walk in; tripping is much more likely, and the risk of damage to the woman's ankles, toes, and feet, both short-term and long-term, is similarly increased.
As a result of these conflicting factors, women who wear high heels have a love/hate relationship with their shoes. A small proportion of women seem to be obsessed with high-heels, owning many pairs. Imelda Marcos, for example, was famous for her vast collection. Second-wave feminism considered high-heeled shoes a tool of female oppression, constraining a woman's movements and behavior as much as possible; however, third-wave "sex-positive" feminism supports a person's choice to wear high heels for pleasure. Throughout the last sixty years, high-heels have fallen in and out of favor several times, most notably in the late 90s, when lower heels and even flats predominated. Lower heels were preferred during the late 60s and early 70s, as well, but higher heels returned in the late 80s and early 90s. The shape of the heel has vacillated back and forth between block (70s), tapered (90s), and stiletto (50s, 80s, and post-2000).