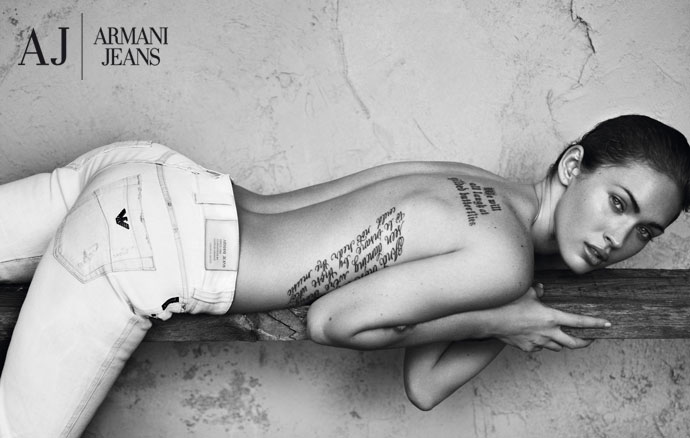 ARMANI will be presenting the ARMANI Jeans S S/s 2012 collection at PREMIUM International Fashion Trade Show in Berlin, July 6-8, 2011.
ARMANI Jeans perfectly complements the brand portfolio of PREMIUM, which offers the ideal platform for presenting the ARMANI Jeans line to top retailers from all over the world. With its consistently curated collections and its unique brand mix, PREMIUM satisfies the highest demands of both buyers and exhibitors.
For the presentation of ARMANI Jeans, PREMIUM will exclusively be providing the Atelier, one of the most attractive locations of the STATION-berlin, situated right at the entrance.
Norbert Tillmann, CEO of PREMIUM Exhibitions GmbH:
"We are very honored that ARMANI JEANS has chosen PREMIUM and its concept for their trade show premiere and we especially look forward to welcoming them here in Berlin."
PREMIUM EXHIBITIONS GMBH I LUCKENWALDER STRASSE 4–6 I 10963 BERLIN TEL +49 (0)30 6290850 I FAX +49 (0)30 62908550 I INFO@PREMIUMEXHIBITIONS.COM WWW.PREMIUMEXHIBITIONS.COM
Learn more about Armani.
For those of you stylish enough to speak more then only English, you can possibly read the following version of this fashion event news:
ARMANI präsentiert die aktuelle Kollektion von ARMANI Jeans S/s 2012 auf der PREMIUM in Berlin vom 6. – 8. Juli 2011.
Die Kollektion von ARMANI Jeans stellt ein perfekte Ergänzung zum Brandportfolio der PREMIUM dar, die durch ihr hervorragendes Image die ideale internationale Plattform zur Präsentation von ARMANI Jeans ist. Durch das konsequente Kuratieren der Kollektionen und den exzellenten Brandmix genügt die PREMIUM höchsten Ansprüchen von Seiten des Handels und der Aussteller.
Für die Präsentation der Jeanslinie aus dem Hause ARMANI stellt die PREMIUM exklusiv das Atelier, eine besonders attraktive Fläche direkt im Eingangsbereich der STATION-berlin, zur Verfügung.
Norbert Tillmann, Geschäftsführer der PREMIUM Exhibitions GmbH:
"Wir fühlen uns geehrt, dass ARMANI Jeans sich für ihre Messepremiere für die PREMIUM und das PREMIUM Konzept entschieden hat, und freuen uns besonders ARMANI Jeans hier in Berlin auf der PREMIUM willkommen heißen zu können."