French designer Christophe Guillarmé recently present his latest designs at the Cannes Palais des Festivals on the occasion of the 9th Cannes Shopping Festival.
His dear friends and muses join him to bring their support and ravish photographers during a sunny press meeting at the Majestic Barriere prior to catwalk.
Actress Natacha Amal was simply gorgeous wearing an oriental inspired beaded camel tunic dress, Salomé Stévenin soon performing in «Madame Solario» with Cyril Descours, was looking great in a nude mini dress, and stunning singer Melissa Mars choose to wear a draped silk tulle mini bustier dress with crystal embroideries.
They were amazed to discover new 100% electric car "Twizy" from Renault taking part to the show on stage, designed in a special edition by Christophe Guillarmé: Twizy car was coming either in turk blue python or in a Riviera glam-rock way ! To end nicely the evening, guests were invited to a gala dinner in the Sparkling lounge restaurant.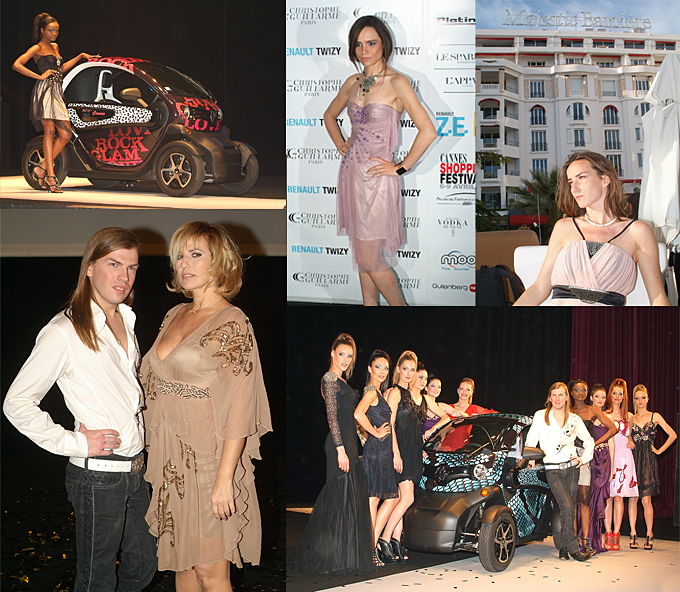 Read more fashion news articles from 2012: January 2012 Fashion Articles
Read more fashion industry news archive from 2011: 2011 Archive Fashion Articles
Read more fashion articles from 2010: 2010 Archive Fashion Articles
Read more fashion articles from 2009: 2009 Archive Fashion Articles

Follow us on Social Networks:
Follow Apparel Search on Twitter
Follow Apparel Search on Youtube
Follow Apparel Search on Facebook
If you want your press releases about fashion to be published, you are welcome to submit them to Apparel Search at any time. In addition, you may want to submit your articles to the Fashion Newspaper.