For 150 years, PFAFF® has brought you the most modern technology, perfection down to the smallest detail and unlimited possibilities. Now that's worth celebrating, don't you think? And celebrate they will. First off, they are launching two brand new 150th Anniversary limited edition sewing machines; the PFAFF expression 150™ and the PFAFF® select 150™. If you really want to see where your creativity can take you, make sure you don't miss out on these two truly versatile and powerful machines! Both come with the PFAFF® Anniversary Presser Foot Kit – included at no extra charge!
To own a little piece of PFAFF® history, visit your local PFAFF® dealer today!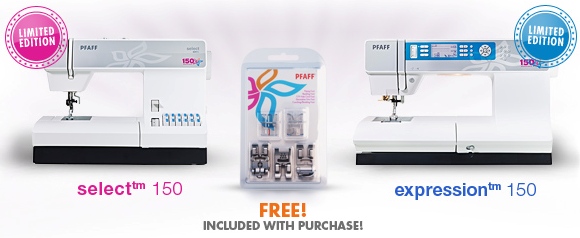 PFAFF has been serving home sewers and the fashion industry for a very long time.
Learn more about the PFAFF 150 Year Celebration.

Read more fashion news articles from 2012: January 2012 Fashion Articles
Read more fashion industry news archive from 2011: 2011 Archive Fashion Articles
Read more fashion articles from 2010: 2010 Archive Fashion Articles
Read more fashion articles from 2009: 2009 Archive Fashion Articles