Here on Apparel Search you can learn more about
fashion
in many various ways. Certainly, one way is to read fashion news articles.

If you have suggestions on ways that we can improve this page, please do not hesitate to let us know.
Alexa Chung chose to wear Moschino for the private view of the Royal Academy Summer Exhibition. For the occasion Alexa wears a shift dress with a black trim and gold button details from Autumn/Winter 2012-2013 collection.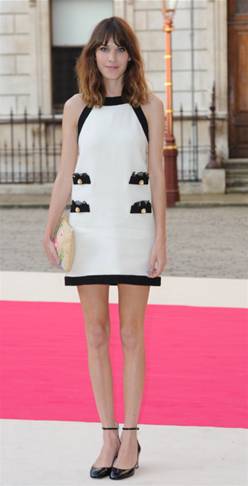 Learn more about Moschino and Moschino Cheap and Chic on Plus Dragon in the fashion scales section or you can research the company at the Moschino website.
Read more fashion news articles from 2012: January 2012 Fashion Articles, February 2012, March 2012, April 2012, May 2012
Read more fashion industry news archive from 2011: 2011 Archive - Fashion Articles
Read more fashion articles from 2010: 2010 Archive - Fashion Articles
Read more fashion articles from 2009: 2009 Archive - Fashion Articles


Follow us on Social Networks:
Follow Apparel Search on Twitter
Follow Apparel Search on Youtube
Follow Apparel Search on Facebook
Fashion on Google+
If you want your press releases about fashion to be published, you are welcome to submit them to Apparel Search at any time. In addition, you may want to submit your articles to the Fashion Newspaper.

Search for additional information about Apparel, Fashion or Clothing.
You may have interest in reading the following:
Rita Ora Wearing Moschino Cheap and Chic
Moschino at Life Ball
Zooey Deschanel Wearing Moschino This Month
Shailene Woodley Wearing Moschino Cheap and Chic
Julia Roberts and Amy Stuart Wearing Moschino
Cheap & Chic Fall/Winter Show 2012
Moschino Blog Posts
Moschino Fashion Brand
Lady Gaga Wearing Moschino in May 2012
Fashion Blogger
Fashion PR
Celebrity Fashion News
Celebrity Fashion
You may also find the following links to be of assistance:

Fashion Jobs
Designer Search
Fashion Forecasting
Celebrity Fashion
Luxury Fashion
Fashion Week
Fashion Brands
Fashion Trends

You may also have interest in the fashion shopping articles ...
If you are tired of simply reading about fashion, you may want to take a break and do a little shopping. If that is the case, you are welcome to visit our shopping section from the links below:
Shopping For Children's Clothing

Here are a few more apparel news resources that you may enjoy.
You may want to also visit the new fashion articles site (FashionArticles.net)
Have you ever dreamed of becoming a fashion designer?