Zooey Deschanel wore a silver sequin dress with cream trim from Moschino Autumn/winter 2012-2013 collection for the 2012 Billboard Music Awards.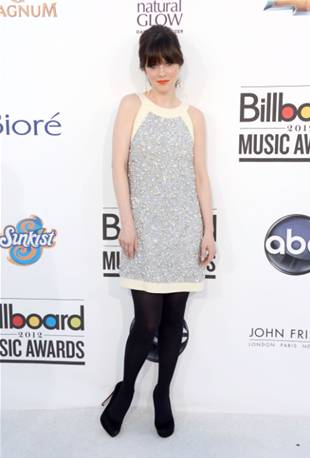 Learn about the 2012 Billboard Music Awards at their website.
You may also have interest in seeing what Miley Cyrus wore to the 2012 Billboard Music Awards.
Learn more about Moschino on Plus Dragon or at their website.
By the way, it would also be a good idea for you to learn more about Zooey Deschanel. You can read up about her on Wikipedia.
Read more fashion news articles from 2012: January 2012 Fashion Articles


You may have interest in reading the following:
Kelly Clarkson at the 2012 Billboard Awards
Brandy at the 2012 Billboard Music Awards
Julia Roberts and Amy Stuart Wearing Moschino
Lady Gaga Wearing Moschino in May 2012
You may also find the following links to be of assistance:

Fashion Jobs
Here are a few more apparel news resources that you may enjoy.
Have you ever dreamed of becoming a fashion designer?
Here on Apparel Search you can learn more about
fashion
in many various ways. Certainly, one way is to read fashion news articles.

If you have suggestions on ways that we can improve this page, please do not hesitate to let us know.