Lady Gaga wore custom made Moschino during a performance at her "Born This Way Ball" Tour
The singer chose to wear the first of six looks especially made for the worldwide tour last night in Hong Kong. The "Born this Way Ball" Tour took off April 27th in Seoul, continued on to Hong Kong, and will be followed by Tokyo, Singapore, Australia, New Zealand and finally Europe and the U.S.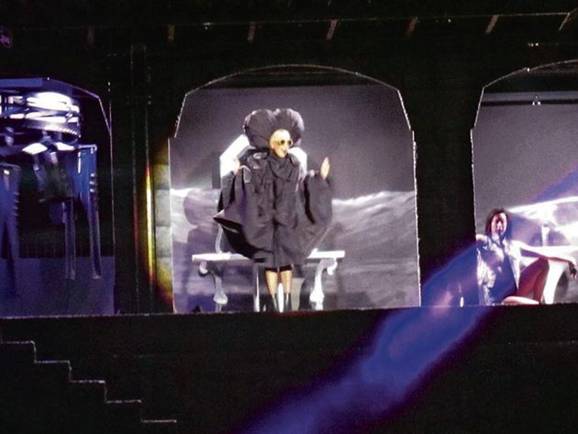 Heart Attack Look Flounced taffeta cape and sequined purple bikini with the use of Moschino symbols Peace and Love. The look is completed with a giant helmet in the shape of a heart.
Learn more about Moschino on Plus Dragon.
You may also have interest in viewing pictures of Kylie Minogue wearing Moschino recently for her new video. In addition, you can check out Katy Perry and Kelly Brook who also has been spotted wearing Moschino.
Read more fashion news articles from 2012: January 2012 Fashion Articles
Read more fashion industry news archive from 2011: 2011 Archive - Fashion Articles
Read more fashion articles from 2010: 2010 Archive - Fashion Articles
Read more fashion articles from 2009: 2009 Archive - Fashion Articles

Follow us on Social Networks:
Follow Apparel Search on Twitter
Follow Apparel Search on Youtube
Follow Apparel Search on Facebook
Fashion on Google+
If you want your press releases about fashion to be published, you are welcome to submit them to Apparel Search at any time. In addition, you may want to submit your articles to the Fashion Newspaper.

Search for additional information about Apparel, Fashion or Clothing.