Here on Apparel Search you can learn more about
fashion
in many various ways. Certainly, one way is to read fashion news articles.

If you have suggestions on ways that we can improve this page, please do not hesitate to let us know.

Warm weather has arrived, and we're shedding our cozy leggings and cashmere tights in lieu of chic, lightweight styles. Spring is here, and so are the Philippe Matignon Spring/Summer styles!
This season Philippe Matignon's SS12 Collection is offering new styles that range from sheer tights to whimsical and quirky socquettes!
Below I have included a few of our fun SS12 socquette styles and attached our SS12 lookbook.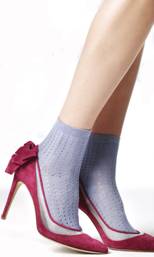 TROUS Socquette
High heels, flats, Oxfords, ankle boots, you name it. The possibility of footwear to pair with the TROUS Socquette is endless. Whatever you end up wearing these ankle socks with, make sure to show off the adorable knit pattern.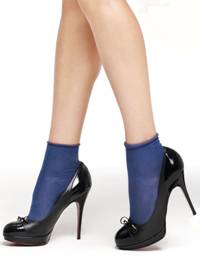 FLOU Socquette Cotton
Gone are the days where you find socks in the undergarment section. The new ankle sock is a hot fashion accessory, made to be worn visibly with shorts, skirts and cropped pants. Pick a pair of these FLOU Socquette Cotton in white (bianco), black (nero) and royal blue (blu urban).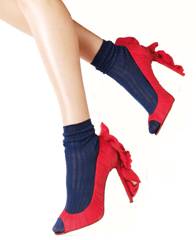 COTELE Cotton Socquette
The moderate temperature of spring is a great opportunity to take advantage of the COTELE Cotton Socquette. Wear them over tights or leggings for a stylish layering look. Besides black and dark blue, they also come in spring/summer shades of lilac, cornflower blue and pastel.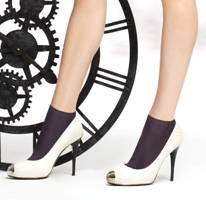 Socquette Cotton
Ankle socks have made a big comeback because of their versatility. They can make lace-up Oxfords more feminine as well as understate the glamour of high heels. Spice up your wardrobe with these affordable Socquette Cotton that come in 6 colors.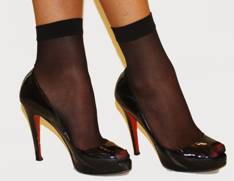 Socquette Transparency
Sheer from ankle to toe the Socquette Transparency is a great addition to your Spring and Summer looks!
Learn more about Philippe Matignon.
Read more fashion news articles from 2012: January 2012 Fashion Articles
Read more fashion industry news archive from 2011: 2011 Archive - Fashion Articles
Read more fashion articles from 2010: 2010 Archive - Fashion Articles
Read more fashion articles from 2009: 2009 Archive - Fashion Articles

Follow us on Social Networks:
Follow Apparel Search on Twitter
Follow Apparel Search on Youtube
Follow Apparel Search on Facebook
If you want your press releases about fashion to be published, you are welcome to submit them to Apparel Search at any time. In addition, you may want to submit your articles to the Fashion Newspaper.


Women's Hosiery
Lolly Unveils Bold Mixed Prints
Accessory Stores
You may also find the following links to be of assistance:

Fashion Jobs
You may also have interest in the fashion shopping articles ...
If you are tired of simply reading about fashion, you may want to take a break and do a little shopping. If that is the case, you are welcome to visit our shopping section from the links below:
Shopping For Children's Clothing

Here are a few more apparel news resources that you may enjoy.
You may want to also visit the new fashion articles site (FashionArticles.net)
Have you ever dreamed of becoming a fashion designer?