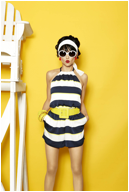 Chandon uncorks the warm weather with the launch of the Chandon Limited Edition American Summer Bottle in patriotic red, white and blue. To celebrate the launch, Chandon has joined forces with Alice + Olivia designer Stacy Bendet to create the ultimate outfit to represent the American Summer: The Alice + Olivia by Stacey Bendet Limited Edition Romper pairs perfectly with the Chandon Limited Edition American Summer Bottle = the stylish way to sip!
In keeping with Bendet's fun and feminine aesthetic, the romper is this summer's must-have outfit. Whether you're lounging by the pool, relaxing at the beach or dining with friends, the romper is refreshing, classy and stylish – just like Chandon!
Chandon is fun flirty and playful, just like a+o. Who wouldn't feel sexy in this romper when sipping Chandon from their Limited Edition summer bottle?
– Stacey Bendet, Designer for alice + olivia by Stacey Bendet
Taking pride in its American heritage, Chandon consistently crafts a delicious portfolio of uplifting and elegant wines, ideal for any American celebration. Similarly, Alice + Olivia has rapidly secured staple-status in women's wardrobes owing to Bendet's whimsical and playful designs. Together, Chandon and Alice + Olivia are set to become this summer's most dynamic duo.
The Chandon Limited Edition American Summer Bottle will be available in 750ml and 187ml sizes from June 1 – Sept. 1, 2012 at www.chandon.com and select retailers nationwide. The Alice + Olivia for Chandon Limited Edition Romper will be available from select Alice + Olivia boutiques beginning June 1, 2012.
About Domaine Chandon
Founded in 1973, Domaine Chandon was the first American sparkling wine venture established by a French Champagne house (Moët & Chandon). Chandon crafts a range of sparkling wines that reflect California's vibrant regional character yet remain true to the practices of méthode traditionnelle. A leader in viticulture as well as winemaking, Domaine Chandon is at the forefront of sustainable farming practices and continues to replenish, control, and in many cases restore the natural habitat. Domaine Chandon's acclaimed fine dining restaurant étoile received a star rating in the 2010 Michelin Guide. The winery was selected "Winery of the Year 2005" by the California Tourism Association.
Blending tradition and innovation, Chandon wines have a confident, sophisticated, food-friendly style that will excite your senses and inspire your palate. Chandon sparkling wines include:

Brut Classic - Classic balance typifies this refreshingly soft, yet dry wine. The wine delivers complex apple and pear characteristics accented by citrus spice over notes of almond and caramel in the bouquet. Driven by Chardonnay, this wine delivers complex apple and pear characteristics accented by citrus over notes of almond and caramel.

Blanc de Noirs - Chandon Blanc de Noirs is characteristically a delicate salmon color driven by Pinot Noir. Dark cherry, currant and strawberry dominate both aroma and flavor with hints of cassis and blackberry.

Chandon Rosé - In the glass, the color is a vibrant pink with a blush of sunset. Intense ripe strawberry, juicy watermelon and fresh red cherry fruit aromas and flavors are interwoven with apple, pear and stone fruit. On the palate the wine is creamy and seductive, with defined structure from the addition of still Pinot Noir at tirage.

Extra-dry Riche - An inviting floral bouquet is followed by rich, honeyed fruit flavors that harmonize with the velvety-soft texture. Luscious peach and white nectarine layered with honey and apricot persist throughout the long finish.

étoile Brut - Tiny bubbles elevate an attractive bouquet of ginger and brown spice. Appealing baked apple, honey and cinnamon flavors meld seamlessly with nutty caramel flavors gained from extended sur lees aging.

étoile Rosé - This wine is elegant and restrained with fresh aromas of plum, raspberry and nutmeg. These aromas follow through on the palate and are layered with subtle and delicate flavors of cocoa powder. The wine finishes with excellent length and richness that will stand up to a variety of foods.