Deluxe knitted scarves and blankets called Votary and their newly launched Kickstarter campaign! Check out the Votary's Kickstarter campaign, by visiting http://www.kickstarter.com/projects/votary/votary-knitted-scarf-and-blanket-collection.
After losing his job as an attorney, Luigi Bianco decided to follow his dream and create a stylish and comfortable knitwear label. The Votary scarf collection seeks to reinterpret the classic look and blend it with the highest quality construction using utilitarian elements. Founded in New York City in February 2012,Votary's initial desire is to revolutionize an often overlooked – but nonetheless defining – element of one's personal style: the scarf. The line is at once premium but also democratic in its approach, and strives to produce pieces that are destined to be favorites for years to come.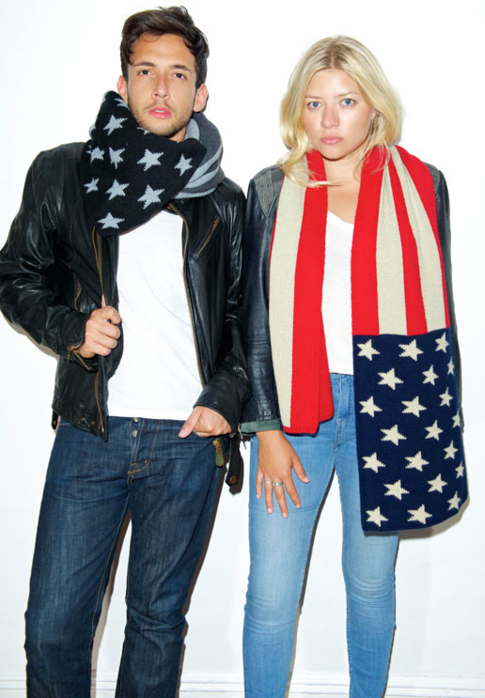 Similar to the term, the Votary collection is meant for one who is a firm believer, supporter or advocate; an enthusiast; a devotee; or a faithful follower. Votary scarves, and complementing blankets, were created as a staple in the fashion accessory industry along with making an original statement translated through the materials, over-sized construction, reversible design, fully knitted production - and all proudly designed and manufactured in the United States.
· All Votary pieces are proudly designed and manufactured in the USA
· Non-scratchy hand – as soft as Merino Wool
· Machine Washable
· Hypoallergenic
· Double paneled, over-sized construction for extra warmth and added structure for styling
· Fully knit construction – no sewn edges to cut costs
· Reversible design
Making a lasting first impression is always important and to that end Luigi has always thought what is at eye level and used for layering was super important - be it scarves, cardigans or jackets. So with that philosophy, he wanted his inaugural collection to inject well-constructed, smartly designed style into life with premium, yet accessible, oversized scarves. The money Votary raises is needed to cover the costs of their production in the tri-state area factory with whom they have partnered in hopes of promoting in-home jobs. With customer support, they will get the knitting machines fired up and get these scarves and blankets into customers hands for a warm and stylish winter.
For more information, please visit www.VotaryNY.com
More about Votary and the Founder: Born and raised in New York as the son of an Italian immigrant and entrepreneur, Luigi Bianco, the founder of Votary, was born with an innate sense of style and learned at an early age the value of pursuing a dream.
Luigi chose to name the line Votary as its meaningful definition resonated at a juncture in his life when he was unsure of where his path was leading him. After spending five years practicing law and falling victim to the economic crisis, Luigi let his entrepreneurial spirit get the best of him. With great difficulty in finding a job, he left his native New York for Europe to start anew in the fashion industry and pursue his childhood dream. His time working for a well-respected fashion firm in London armed him with the tools he needed to return home and proudly establish Votary as a New York based company that manufactures in the USA to help foster smart economics.
Votary draws upon Luigi's firm belief in making a lasting first impression. Votary's inaugural collection of scarves seeks to inject well-constructed, smartly designed style into daily life whether it be on the street or in the home; as translated by the Votaryblanket.
Votary is Americana-inspired and reflects elements of European style and detail that Luigi has refined while having lived in Milan, Rome and London. From the garish to the traditional, Votary was built to reinvent the standard for premium, yet accessible, personal style.
Read more fashion news articles from 2012:
Read more fashion industry news archive from 2011: 2011 Archive Fashion Articles
Read more fashion articles from 2010: 2010 Archive Fashion Articles
Read more fashion articles from 2009: 2009 Archive Fashion Articles


Follow Apparel Search on Youtube
Follow Apparel Search on Facebook