Learn more about
Apparel here on Apparel Search.

ODYLYNE will be hosting a Trunk Show featuring Spring 2012 Looks with Stylehaus on Thursday, Feb 23 from 6pm-9pm!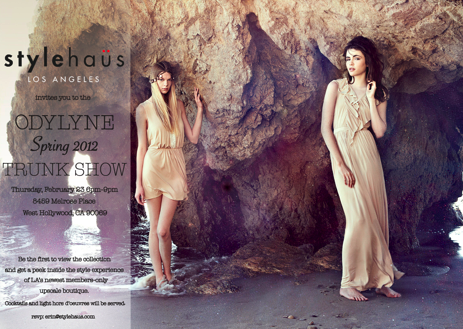 RSVP @ erin@stylehaus.com
Enjoy cocktails and champagne with the designer! Located at 8459 Melrose Place, West Hollywood, CA, 90069.
Some info on Spring 2012:
With looks newly showcased from Gen Art Fresh Faces of 2011, ODYLYNE's Spring 2012 Collection is inspired by the Victorian Era and the beautiful prints of the 1800's. The main print of the season is a silk floral "Tea Rose" that was mainly inspired by the wallpaper prints of William Morris. Picking soft pastels in the shades of pistachio and camel, you can find yourself in a chic floor length dress of ruffles, or in a soft lace mini...both looks easy to wear from day to night. Combining the vision of a woman in the 1820's having tea in the English garden with a little bit of our modern day bohemian woman...you get a collection that transcends time!

◊ Shopping For Women's Clothing
◊ Shopping For Children's Clothing

By the way, you can find fashion boutiques on Apparel Search, if you were interested. You can find them in the fashion boutiques section.
You may also want to visit the fashion boutiques guide to find and research boutiques by state.
Don't forget to check the fashion boutique directory as well.

2012 Fashion Shopping News Articles
2011 Fashion Shopping Articles
2008 Fashion Shopping Articles

Fashion News Article Archive 2011
Trunk Shows
Rad and Refined Trunk Show
Christina Makowsky Fashion Designer Trunk Show
Clothing Stores
Fashion Accessory Stores
Designers
Check out our new clothing guides.
You may also like to view the fashion designers guide.
Learn more about women's fashion, men's fashion and children's fashion.