Learn more about
Apparel here on Apparel Search.

Bright it on! Tangerine Tango, a radiant orange, has been named the top color of 2012 by the Pantone Color Institute. "Sophisticated but at the same time dramatic and seductive, Tangerine Tango is an orange with a lot of depth to it," said Leatrice Eiseman, executive director of the Pantone Color Institute. "Tangerine Tango marries the vivaciousness and adrenaline rush of red with the friendliness and warmth of yellow, to form a high-visibility, magnetic hue that emanates heat and energy."
Devora Libin Jewels brings you easy, fun ways to incorporate this vibrant, juicy hue into your spring/summer wardrobe! How do you do the Tangerine Tango?
RUBBER SKULL
Pack some punch into your wardrobe with this rubber skull bracelets adorned with Swarovski detail. 20% of net proceeds from this bracelet will go towards the Ilya Peckerman Fund which benefits The Vasculitis Foundation.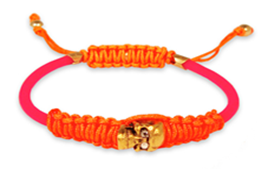 14k gold fill components
Price: $80
---
EVE
Rock Star meets Fashionista with the glamorously edgy collection of glittering crystal pave beads and bold spikes.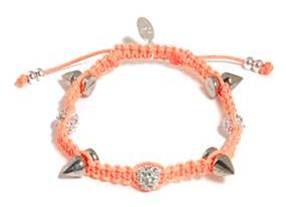 Sterling silver DLJ Tag /adjustable closure
Price: $125
---
CHLOE W.
Cute and feminine with just a touch of rebellious flair, this hand woven bracelet is perfect for DLJ stackable style!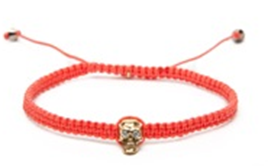 Swarovski crystal detail on skull and at closure.
$100
---
POPPY S.
This semi precious gemstone stretch bracelet features two pewter skulls and a single pave bead. *2.25 inch diameter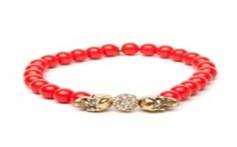 Price: $80
---
MACRAME BLING HOOP
Your go-to hoops for the perfect amount of femininity and charm. Swarovski crystal beads and sterling silver hoop.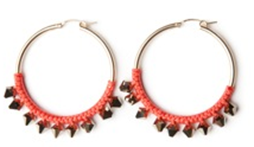 Price: $135
About Devora Libin Jewels

New York native, Devora Libin turned her passion for creativity into a unique hand-made collection of eclectic, trendsetting pieces designed for individuals with their own unique style. A self-taught designer, Devora's personal elegance and eye for edgy details evolved into an assortment of bracelets, earrings and necklaces. Whether worn layered or on its own, Devora Libin Jewels showcases individuality while incorporating runway-worthy trends. By admiring the craftsmanship of vintage pieces, she had a vision for redefining current trends that push boundaries while still nodding to styles of the past. Devora Libin Jewels combines lux, semi-precious gemstones, fine metals and Swarovski crystals, making each piece unique in its own way.

◊ Shopping For Women's Clothing
◊ Shopping For Children's Clothing


By the way, you can find fashion boutiques on Apparel Search, if you were interested. You can find them in the fashion boutiques section.
You may also want to visit the fashion boutiques guide to find and research boutiques by state.
Don't forget to check the fashion boutique directory as well.

2012 Fashion Shopping News Articles
2011 Fashion Shopping Articles
2008 Fashion Shopping Articles

Fashion News Article Archive 2011
Bracelets
Jewelry News
Fashion Accessories
Jewelry Reviews
More Accessory Stores
Clothing Stores
Designer Fashion Boutiques
Fashion Boutique Directory
Check out our new clothing guides.
You may also like to view the fashion designers guide.
Learn more about women's fashion, men's fashion and children's fashion.