One day, the elves had significant delays getting to Santa's workshop on time. The delay was caused by the fact that elves are NOT good at making decisions. They spent the morning trying on shoes and attempting to select the best pair of shoes to wear for the day. After realizing that their lack of decision making capabilities nearly resulted in delays for Christmas. The elves decided that choosing among various shoe styles, shoe brands, and shoe colors, was not in the best interest of Christmas. Selecting which shoes to wear was not worth the risk of being late again in the future. They decided that for now on they would all wear the exact same shoes and never change the style. Hence, every elf wears the same shoes.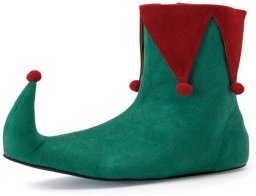 Why do all of Santa's elves wear the same shoes? - Full Explanation
ML92208
Why Does Santa Claus Wear Black Boots?
Why Does Santa Claus Wear a Red Suit?
What makes a Christmas Sweater Itch?
Should Men Wear Snowman or Santa Claus Sweaters?
Santa's Workshop Inspection Report 2008
Does Christmas Stocking Size Matter?
................................................................
Shop for Clothing to support the elves: