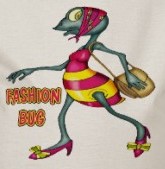 A "fashion bug" is a person who places a lot of emphasis on fashion and is always sure to follow the latest trends. Although the term seems somewhat dated, a more modern interpretation could translate to the term "fashionista," but that term tends to evoke an image of a fashionable woman who is chic and sophisticated. One could certainly say that the Carrie character in Sex and the City is a fashion bug, but Apparel Search believes the word fashionista would be a better description of Carrie.
Fashion bugs, always concerned with the latest styles and brands, are eager to update their wardrobes every season to incorporate the latest styles or colors. A fashion bug would be among the first in the crowd to wear lace or those black rubber bracelets that Madonna wore during the 80s when she first emerged on the music scene.
The Apparel Search team believes that the term "fashion bug" could on occasion (but not always) suggest a more negative connotation, unlike the term "fashionista, " which is often used in the industry to describe a woman who always looks stylish and has a cosmopolitan vibe.