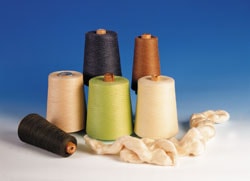 Don't forget to also check the yarn prices.

Durafil PVA (China): The leading name in PVA water soluble yarns and water soluble sewing thread, Durafil-PVA has been the pre-eminent symbol of quality and reliability in the research and manufacturing of high performance PVA water soluble yarns and water soluble sewing thread for the past 15 years. Headquartered in China, Durafil-PVA is a subsidiary of Durafil Research and Manufacturing Group Limited.
Thread Manufacturer

yarn Manufacturer
---

Eren Tekstil has a capacity of 26,000 spindles, and produce cotton, organic cotton and bamboo combination yarn. According to Uster standards, production quality of yarn is among the top 5%. State-of-the-art machinery allows online control of all production stages, and produces high quality with the help of strainers that filter out impurities.
yarn Factory

Bamboo yarn Factory
---

Esra Textile (Turkey): manufacturer of acrylic and acrylic wool blends yarns. They produce acrylic and acrylic wool blends yarn between nm 18 to 40 as single double ply and as HB or Regular in every color. They use the acrylic fiber from Dralon, Aksa, Courtelle and produce with high and new technology. They have following certificate ISO 9002,CE,OEKO-TEX STANDART 100. Their capacity is 300 MT per month. e-mail: esrateks@esra.com.tr Contact: Erhan Kartal
---

Fenatex International Co Ltd., (Thailand): FENATEX International Co., Ltd., was established in the year 1994 and was then known as L'sser Thailand Co., Ltd. They had then obtained the Sole Distributorship of L'sser Shuttle Embroidery machines, manufactured by L'sser AG of Switzerland for the market of Thailand. In 2000 they also obtained the selling rights for SWF embroidery machines from Korea and Pfaff Sewing machines from Germany. In the year 1995, their subsidiary firm L'sser (India) Pvt. Ltd., was established in Faridabad, India. This was in response to the increasing demand of embroidery machines and technical support required by the Embroidery Industry in India. Their sister concerned firm Gamma Textile Mfg. Ltd., has a substantial experience of over a decade in this industry, they were able to gain true knowledge of the same from them and apply to their marketing, sales, distribution and after sales services segments. Through the years, they have grown from being a machine distributor to a large trading house that deals in products related not only the embroidery industry but also one that covers the entire textile, garments and embroidery sectors in a very reputable manner. Their growth prompted them and encouraged & expanded their vision by the passing days and in the year 1996 they decided to start catering to the raw material needs of their clients who have purchased machines from or through them. They started to source products from many different countries and expanded their product line to the level that covered and fulfilled most of the requirements of their old and new customers. Dealing in raw materials such as yarns and fabrics and spare parts for the machines along with other accessories they gained important experience. During the passing years, they established contacts in many Asian and European countries. After the set up of their Indian subsidiary they contracted agencies with reputed organizations in Pakistan and Indonesia. With the increasing demand of good quality yarns especially in the synthetic segment, they contacted reputed Nylon Filament yarn manufacturers from Japan, namely ASAHI-KASEI. The response was a positive one and they obtained the sole right of marketing and selling nylon filament yarns produced by Asahi's Indonesian branch. Their R&D section works hard and fast along with the Merchandise Dept., to take them in to the 21st century as one of the leading suppliers of raw materials and other related products. This has resulted in to an aggressive marketing campaign of embroidery yarns and fabrics in the Asian region and also it has obtained them the Sole Selling rights of SWF embroidery machines. They also have started their own twisting plant in Thailand to produce embroidery yarns of high quality standards, which meet the requirements of Western customers and end users. Address: 149 / 122 - 123 Soi Petchkasem 95, Petchkasem Road , Moo 13 Samutsakorn 74130 Thailand Phone: 662 - 811 -1114 or 661 - 682 - 7175 Fax: 662 - 431 - 0515 Email: britney@fenatex.ne t Contact: Gautam Ratnabhas
Manufacturer Item # 1: Manufacture yarn for embroidery
Manufacturer Item # 2: Manufacture yarn for Textile Industry
Manufacturer Item # 3: Deal in Used machines
Manufacturer Item # 4: Have own designing and punching studio
---

Fibraltex: large textile and yarn manufacturer in Argentina.
---

fiberpartner (Denmark) is supplying demanding clients worldwide with polyester fiber: solid, hollow, conjugated, bico & short cut fibres , as well as industrial yarns in polyester and nylon. On www.fiberpartner.com you will find full technical specifications. Address: fiberpartner Aps Sjaellandsgade 10b DK 7100 Vejle Denmark
Polyester fiber
Polyester Industrial yarn
Nylon Industrial yarn
---

Filasur S.A.
Address: Av. El Santuario 1119. Zrate San Juan de Lurigancho Lima 36 Peru Phone: (51-1) 459 8174 or (51-1) 459 8175 Fax: (51-1) 459 7470 Email: n_abusada@filasur.com.pe Contact: Nicol's Abusada - Manager
Manufacturer Item # 1: Peruvian Cotton yarns
Manufacturer Item # 2: Acrylic yarns
Manufacturer Item # 3: Knited fabrics
Manufacturer Item # 4: Woven fabrics
---

Filatex India Limited (India): FIL is one of the pioneers in manufacturing Monofilament yarns for Zippers, Tooth Brush Bristles, Velcro, Magic Fasteners and Forming fabrics in India. All these products are import substitutes and are helping the country in saving precious foreign exchange. Today, FIL has become one of the leading manufacturer of Monofilament yarns in India.
---

Filatura G.M. SpA: The yarn manufacturer Filatura GM Spa was founded in 1977, and quickly became one of the leading companies in the sector of open-end dyed yarns in artificial and man-made fibers (the first company in the Prato district to use this method of spinning). From its initial production of yarns for upholstery fabrics, through major investments in advanced technology, with the most modern spinning equipment such as open-end and ring plants modified by GM spa itself, the company is now able to produce more and more innovative yarns. Its spinning plants now operate various lines of production, including open-end, ring, jasp, crepe, corespun, the system most widely used to produce stretch yarns. For over two years now, with a large spinning plant of the most modern design, GM spa offers a yarn renamed covered, the success of which in the last few seasons has led the company to invest even more heavily in this highly innovative method of spinning. The offices of GM spa are located at the company headquarters in Usella (PO), on an area of about 400 sq.mt. EQUIPMENT Includes: Open-end spinning on an area of 5500 sq.mt., in the two Usella (PO) plants With over 2,000 spinning units. Ring spinning on an area of 5000 sq.mt., located in the Capannori (LU) plant, with over 9,000 spindles. Covered spinning on an area of 2000 sq.mt., located in the Capannori (LU) plant, consisting of 3 installations. RAW MATERIALS AND SEMI-PROCESSED GOODS WAREHOUSE On an area of 7500 sq.mt. located in the Carmignanello plant at Usella, with over 1 million Kg of dyed fibers always available. FINISHED PRODUCTS WAREHOUSE On an area of 3500 sq.mt., at the Usella and Capannori plants, with a productive turnover of 18,000 Kg of yarn a day. SHOW ROOM Located in the villa Il Mulinaccio (Loc. il Mulinaccio- Vaiano, PO), where every season the company presents its new collections. THE PRODUCT The yarns produced by Filatura GM spa are used in various sectors of apparel, in woven fabrics, fabrics for menswear and womenswear, as well as sportswear, knitted outerwear and as the yarn component of fully-fashioned knitwear. Color is the strength of Filatura GM Spa: its shadecards are always updated from one season to the next, and in the spirit of collaboration with its clients the company can perform dye tests on shades requested by the client in 12 hours, submitting them for approval before putting the lot of yarn into production. This applies to both plain and melange multicolored yarns of all types. The dyed yarns are used by a number of clients and have established bonds of collaboration for Filatura GM Spa with some of the most important garment manufacturers and fashion houses in the fields of woven fabrics, knitwear and yarn manufacture. GM spa produces yarns in: viscose, viscose/polyester, viscose/wool, viscose/linen, acrylic, acrylic/wool, cotton, cotton/nylon, modal, modal microfiber, polyester, polyester microfiber, in counts that range from Nm 2,000 to Nm 60,000. The company has organized, for each product line, special quality control divisions to ensure the constant quality of the entire production process. As confirmation of the high standards achieved, in July 2001 GM spa obtain ISO 9002 certification. The products are manufactured with processes and raw materials that fully comply with the Oeko-tex parameters. Address: Il Fabbro 57 - Usella Cantagallo-Prato 59022 Italy Phone: 0574 946145 Fax: 0574 987379 Email: gm.spa@texnet.it Contact: Franco Casini Export Sales
Manufacturer Item # 1: knitting yarn
Manufacturer Item # 2: weaving yarn
Manufacturer Item # 3: open end
Manufacturer Item # 4: woollen system yarn
Manufacturer Item # 5: cotton system yarn
Manufacturer Item # 6: stretch yarn
---

Filcompany s.r.l (Italy): company specialized in the production of high quality yarns for the textile and knitting industry. They are particularly proud of their ability to collaborate with their clients and to put at their disposal their many years experience in the yarn sector.
---

Fingerlakes yarns (USA): Fingerlakes Woolen Mill is located in the Finger Lakes region of New York, just north of Ithaca. It is the only US mill that manufactures angora yarns for the handknitting market in addition to it's wool and wool/silk yarns. Fingerlakes produces carded wool and wool/angora blends for handspinning, felting and other craft uses. Fingerlakes Un-spun
is the popular brand of pencil roving, also known to some as the "yarn" the Icelandics use in their famous yoke sweaters.
---

Frousans (Frousans Group) [China]: they process and sell top grade knitting yarn which made into Japanese import acrylic , It can made into top grade knitwear . The yarn is sold solely in their country. The feature: bright colored , fur sense of reality , the yarn droops well .The clothing of making into the yarn is specially gorgeous .Suitable needle type: 12G-18G . Specification: 150D. Frousans Group is a sole corporate private enterprise which includes 4 companiesLtd., Dahan Dyeing & Weaving Co., Ltd., Dahan Garments Co., Ltd. and Dahan Electronics Co., Ltd. Now the Group has owned RMB 38 million fixed assets, 570 employees and 40 of them are technicians. Its whole plant area has covered 21 thousand square meters.Phone # 086-417-4812983 Fax: 086-417-4812983
---

Fu Chu Knitting Co. Ltd.(Taiwan): they are the manufacturer of yarns for all kinds of pantyhose in Taiwan. Address: 678 Sec 2 ,Yuan Chi Rd. She-tou Shiang ChangHwa 511 Taiwan Phone: 886-4-8732158 or 886-4-8732258 Email: joyhosiery@hotmail.com Contact: Joy Hu
Manufacturer Item # 1: Covered yarn (for pantyhose)
---

Gem & Co: specializing in the trading and manufacturing of yarn and socks from the far East and South Korea.
---

Grupo Kaltex (Mexico): is a textile company that is 100% Mexican. Vertically integrated, by enterprizes which manufacture the following products: synthetic fiber, yarn, fabrics, garment, textile home products
---

Harriet & Henderson yarns, Inc. (United States):
Address: P.O. Box 789 Henderson, NC 27536 Phone (252) 430-5000 E-Mail: sales@hhyarns.com
---

Hertex Agency AG (Switzerland): is a Swiss-based company specialized in the representation of raw material producers which occupy leading positions in the plastic, synthetic and textile industry. Address: reutenenstrasse 34, Frauenfeld Switzerland 8500 Phone: +41 52 721 4055 Email: ceeshager@hertex.ch Contact: Mr. C. Hager
Wholesale Item # 1: yarns
Wholesale Item # 4: PET chips
Wholesale Item # 7: PSF fibres
---

Hilos 3 EMES: high quality cotton yarn
---

Himachal Fibres Ltd.: manufacturer and exporter of 100% cotton melange yarn in India.
---

H.P. Cotton Textile Mills Limited (India): They are one of the largest producers & exporters of 100% cotton sewing thread, cotton glaced threads & cotton gassed (singed) & mercerised yarns in India having their own spinning mills. They are producing threads & yarns from count Ne 4s/1 to Ne 70s/1 in 2-ply,3-ply,4-ply upto 27-ply & also cabled, folded & multifolded yarns/threads like 2x3 etc. They can offer sewing threads on 5000 mtrs,10,000 mtrs upto 25,000 mtrs cone & also big industrial cones of 1.25 kgs. They can also offer yarn/threads on ready for dyeing packages like Plastic perforated cones/ cylinderical dye-tubes. Address: 1E/12,Jhandewalan Extension, 4th Floor, Sewak House,New Delhi 110055 India Phone: +91-11-3524439 or +91-11-3524441 Email: info@hpthread.com Contact: Kailash Agarwal (Director - Incharge)
Manufacturer Item # 1: Cotton Sewing Threads
Manufacturer Item # 2: Cotton Mercerized Threads
Manufacturer Item # 3: Cotton Glaced Threads
Manufacturer Item # 4: Crochet yarns
Manufacturer Item # 5: Hand Knitting yarns
Manufacturer Item # 6: Gassed & Mercerized yarns
Manufacturer Item # 7: Embroidery Threads
Thank you for using the Apparel Search website.