Men's Bow Ties Guide
Directory and Information Regarding Men's Bow Ties presented by Apparel Search
Men's Clothes Black Ties Men's Neckwear Clothes Fashion Clothing Retail Stores Clothes Shopping Fashion News Fashion Designers Popular Brands Apparel Men's Clothing Stores Men's Clothing Wholesalers
Welcome to the worlds greatest guide to Men's Bow Ties. Are you actually looking for Men's Bow Ties? Well, we hope you are because the reality is that you have found our Men's Bow Ties page. In this area of the Apparel Search directory, you will find all sorts of interesting information regarding Men's Bow Ties.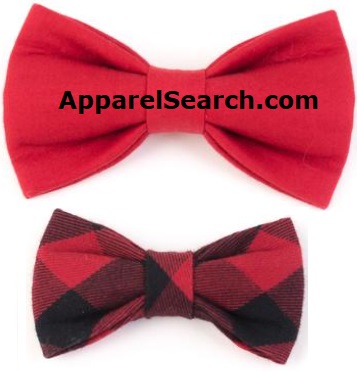 The bow tie is a type of necktie. A necktie, or simply tie, is typically a long piece of cloth worn for decorative purposes around the neck, resting under the shirt collar and knotted at the throat. The bow tie version of neckwear consists of a ribbon of fabric tied around the collar of a shirt in a symmetrical manner so that the two opposite ends form loops. There are generally three types of bow ties: the pre-tied, the clip on, and the self tie. Pre-tied bow ties are ties in which the distinctive bow is sewn onto a band that goes around the neck and clips to secure. Some "clip-ons" dispense with the band altogether, instead clipping straight to the collar. The traditional bow tie, consisting of a strip of cloth which the wearer has to tie by hand, is also known as a "self-tie," "tie-it-yourself," or "freestyle" bow tie. Bow ties may be made of any fabric material, but most are made from silk, polyester, cotton, or a mixture of fabrics. Some fabrics (e.g., wool or velvet) are much less common for bow ties than for ordinary four-in-hand neckties. A modern bow tie is tied using a common shoelace knot, which is also called the bow knot for that reason.
Learn the steps to tie a bow tie.
Learn more about bow ties in our clothing accessory definitions section. You may also find interest in our how to tie a tie section.

Apparel Search is a leading guide to fashion, style, clothing, glam and all things relevant to apparel. We hope that you find this Men's Bow Ties page to be helpful.
What ever type of neckwear you are wearing, is in fashion.
It is always a fabulous day to learn more about men's fashion.
Men's Clothing Directory:
Thank you for taking the time to view this section of Apparel Search to learn more about men's clothes.
Apparel Search Add Your Company Contact Us About Us Advertise News Letter Legal Help
Copyright © 1999-2021 Apparel Search Company. All Rights Reserved.