Are you actually looking for ladies ankle boots? Well, we hope you are because the reality is that you have found our web page on the subject. In this women's footwear section of the Apparel Search directory, you will find all sorts of interesting information regarding ankle boots for women.
What is an ankle boot? It is a boot that reaches to or just above the ankle.
The ankle is a large joint made up of three bones:
The shin bone (tibia)
The thinner bone running next to the shin bone (fibula)
A foot bone that sits above the heel bone (talus)
Booties are ankle boots.
Learn about booties.
It is important to wear comfortable footwear. You obviously want to have a comfortable medial malleolus & posterior malleolus. Oh, you say you don't know what that means. OK, we understand that you may not be a doctor nor do you care about the names of the bony bumps on your ankles. However, if you want to understand shoes, you should also understand a little something about feet and ankles.
Maybe the following will educate you on those bumps on your ankles.
The bony bumps (or protrusions) seen and felt on the ankle have their own names:
The medial malleolus, felt on the inside of your ankle is part of the tibia's base
The posterior malleolus, felt on the back of your ankle is also part of the tibia's base
The lateral malleolus, felt on the outside of your ankle is the low end of the fibula
Again, an ankle boot is a boot that reaches to or just above the ankle.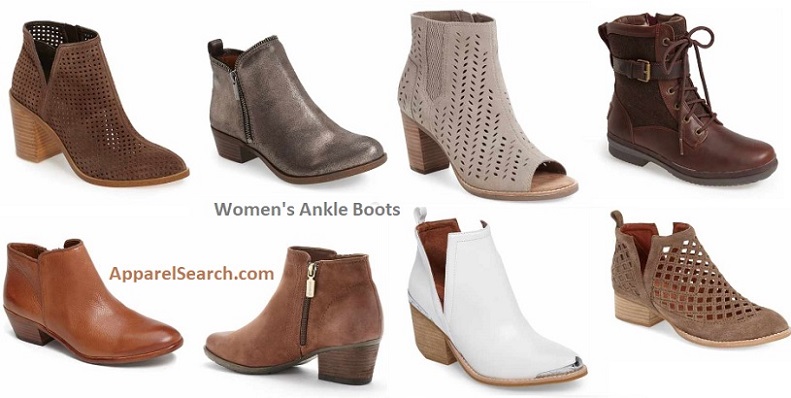 A boot is a type of footwear and a specific type of shoe. Most boots mainly cover the foot and the ankle, while some also cover some part of the lower calf. If a boot goes much higher than the ankle, it would no longer be considered an ankle boot.
What ever type of boot style you are wearing is in fashion this season because you are obviously a very trendy person. If you are interested in learning about other options, you may find the following links to be of interest for your research.
If you want to be most stylish, you should wear your women's ankle boots. Apparel Search is a leading guide to fashion, style, clothing, glam and all things relevant to apparel. We hope that you find this Women's Ankle Boots page to be helpful.
Women's Clothing Directory Pg. 3
We hope that this guide to women's clothing categories has been helpful for your research. Hopefully you found the fashion styles that you were searching to locate.

Thank you for using the Apparel Search website.