Welcome to the worlds greatest guide to Women's Anoraks. Are you actually looking for women's anoraks? Well, we hope you are because the reality is that you have found our clothes guide on the subject. In this women's clothing section of the Apparel Search directory, you will find all sorts of interesting information regarding anoraks for women.
This is a type of waterproof jacket which is typically produced with a hood. Originally used in polar regions where the climate is cold. They are generally long enough to cover your hips.
The words anorak and parka have been used interchangeably, but they are somewhat different garments. Strictly speaking, an anorak is a waterproof, hooded, pull-over jacket without a front opening, and sometimes drawstrings at the waist and cuffs, and a parka is a hip-length cold-weather coat, typically stuffed with down or very warm synthetic fiber, and with a fur-lined hood.
A parka or anorak is a type of coat with a hood, often lined with fur or faux fur. The Caribou Inuit invented this kind of garment, originally made from caribou or seal skin, for hunting and kayaking in the frigid Arctic. Some Inuit anoraks require regular coating with fish oil to retain their water resistance.

You may also wish to review the women's lightweight anorak page.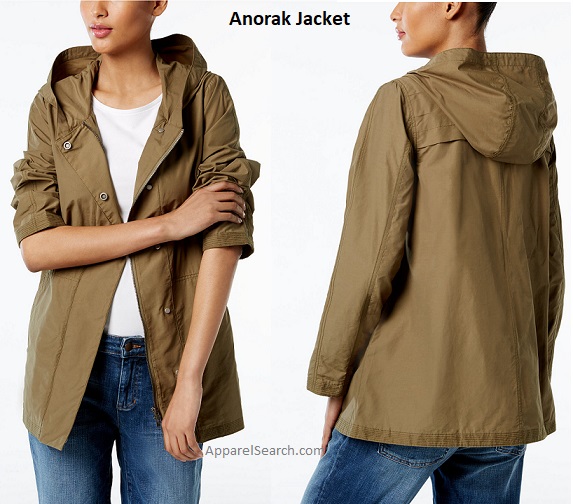 Apparel Search is a leading guide to fashion, style, clothing, glam and all things relevant to apparel. We hope that you find this Women's Anoraks page to be helpful.
What ever you are wearing, is in fashion.
If you want to be even more stylish, you should wear your Women's Anoraks.
Women's Clothing Directory Pg. 3
Thank you for using the Apparel Search website.
We hope that this guide to women's clothing categories has been helpful for your research. Hopefully you found the fashion styles that you were searching to locate.