Welcome to the worlds greatest guide to Women's Beachwear. Are you actually looking for Women's Beachwear? Well, we hope you are because the reality is that you have found our Women's Beachwear page. In this women's clothing section of the Apparel Search directory, you will find all sorts of interesting information regarding Women's Beachwear.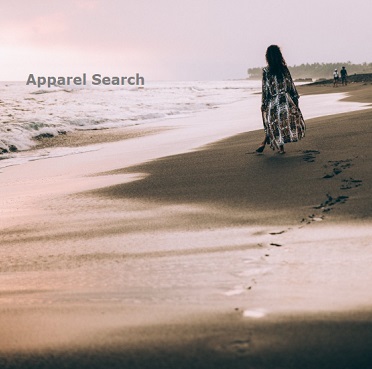 What is beachwear? Simply put, it is clothing, footwear, or accessories worn to the beach. clothing suitable for wearing on the beach, though not necessarily for swimming in. There are many types of beachwear for days spent sunning on the beach or swimming in the water. Beachwear includes swimsuits, board shorts, beach cover-ups, flip-flops and more. Clothing appropriate for swimming, boating, or sunning.
When we think of the beach we often think of the ocean. However, a beach can be along other bodies of water as well. Beach definition, an expanse of sand or pebbles along a shore. A beach is a landform alongside a body of water which consists of loose particles. The particles composing a beach are typically made from rock, such as sand, gravel, shingle, pebbles, or cobblestones. The particles can also be biological in origin, such as mollusc shells or coralline algae. Beaches typically occur in areas along the coast where wave or current action deposits and reworks sediments. Beaches can be popular on warm sunny days.
In addition to swimwear, sun hats, sunglasses, and sandals are important important items for those sunny days at the beach.
A sun hat is a head covering specifically designed to shade the face and shoulders from the sun. They are particularly useful in protecting against ultraviolet rays (UV). The style of a sun hat can range from small to large brims.
Sunglasses or sun glasses are a form of protective eyewear designed primarily to prevent bright sunlight and high-energy visible light from damaging or discomforting the eyes. Medical experts advise the public on the importance of wearing sunglasses to protect the eyes from UV.
A rash guard, also known as rash vest or rashie, is an athletic shirt made of spandex and nylon or polyester. The name rash guard reflects the fact that the shirt protects the wearer against rashes caused by abrasion, or by sunburn from extended exposure to the sun.
Swim shirts are relatively new to the consumer market, but are growing in popularity. They are generally more loose fitting and casually worn. Their primary purpose is to offer an alternative to sunscreen to protect the wearer's skin from the sun's UV radiation.
Sandals are an open type of footwear, consisting of a sole held to the wearer's foot by straps going over the instep and, sometimes, around the ankle.
Flip-flops are typically cheap and suitable for beach, pool, or changing room wear. Flip-flops are a type of sandal, typically worn as a form of casual wear. They consist of a flat sole held loosely on the foot by a Y-shaped strap known as a toe thong that passes between the first and second toes and around both sides of the foot.
Swimwear is clothing designed to be worn by people engaging in a water-based activity or water sports, such as swimming, diving and surfing, or sun-orientated activities, such as sun bathing.
Boardshorts have evolved over the last fifty years and separated themselves from the simpler swim trunks category from which they originated. In the beginning of their history, change happened organically – individual solutions were born out of the need to address environmental requirements and inadequacies in a garment that was increasingly used specifically for surfing. Although they are now considered a popular form of general beachwear. Boardshorts are designed to be quick-drying, and are generally made from strong and smooth material.
Swimsuits range from designs that almost completely cover the body to designs that expose almost all of the body. The choice of swimsuit will depend on personal and community standards of modesty and on considerations such as how much or how little sun protection is desired, and prevailing fashions.
The bikini has spawned many stylistic variations. A regular bikini is a two-piece swimsuit that together covers a female's crotch, buttocks, and breasts. Some bikini designs cover larger portions of the wearer's body while other designs provide minimal coverage. Topless variants are still sometimes considered bikinis, although they are technically not a two-piece swimsuit. Their are several variants of the bikini style such as string bikini, monokini, tankini, skirtini, etc.
In the 18th century women wore "bathing gowns" in the water; these were long dresses of fabrics that would not become transparent when wet, with weights sewn into the hems so that they would not rise up in the water.
In the 19th century, the woman's double suit was common, comprising a gown from shoulder to knees plus a set of trousers with leggings going down to the ankles.
In 1907, the swimmer Annette Kellerman from Australia visited the United States as an "underwater ballerina", a version of synchronized swimming involving diving into glass tanks. She was arrested for indecent exposure because her swimsuit showed arms, legs and the neck. Kellerman changed the suit to have long arms and legs and a collar, still keeping the close fit that revealed the shapes underneath. Despite opposition from some groups, the form-fitting style proved popular. It was not long before swimwear started to shrink further. At first arms were exposed and then legs up to mid-thigh. Necklines receded from around the neck down to around the top of the bosom. The development of new fabrics allowed for new varieties of more comfortable and practical swimwear.
Women's swimsuits include one-piece, bikinis, or thongs. While they go through many trends in pattern, length and cut there is not much modification to the original variety of suit.
You can also view the women's bathing suits or women's swimsuits page.
Beach wear is most often worn in the summer. It is time to learn more about summer fashion.
Apparel Search is a leading guide to fashion, style, clothing, glam and all things relevant to apparel. We hope that you find this Women's Beachwear page to be helpful.
What ever you are wearing, is in fashion.
If you want to be even more stylish, you should wear your Women's Beachwear.

Thank you for using the Apparel Search website.