The women's high-top is a shoe that extends slightly over the wearer's ankle. It is commonly an athletic shoe, particularly for basketball. This type of shoe is commonly referred to as a women's high-top sneaker.
Sneakers (also called athletic shoes, tennis shoes, gym shoes, sport shoes, runners, or trainers) are shoes primarily designed for sports or other forms of physical exercise, but which are now also widely used for everyday wear.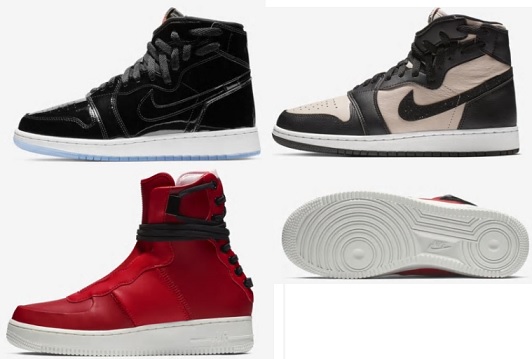 High-tops are sometimes confused with the slightly shorter mid-top, which typically extends no higher than the wearer's ankle. Mid-cut sneakers are in-between high-tops and low-tops.
The following shoes are women's high top sneakers but they may not actually be appropriate for basketball. For example, the Converse sneakers at the top left (image below), may not have enough support. Be careful to distinguish between "fashion" high tops and actual basketball appropriate high top sneakers.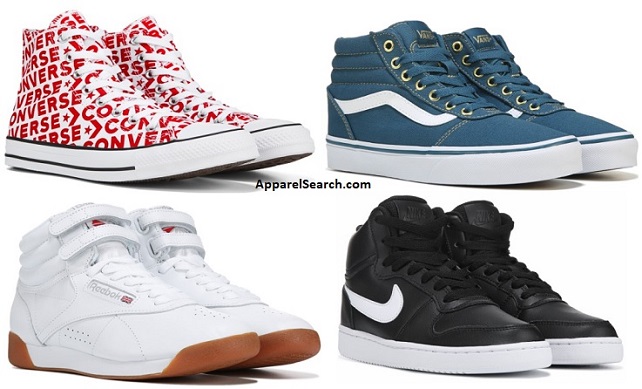 Although high-tops typically refers to sneakers, High-tops can sometimes refer to ankle boots or other above-ankle shoes such as some hiking boots.
Just in case you were not sure, basketball is a team sport in which two teams, most commonly of five players each, opposing one another on a rectangular court, compete with the primary objective of shooting a basketball (approximately 9.4 inches (24 cm) in diameter) through the defender's hoop (a basket 18 inches (46 cm) in diameter mounted 10 feet (3.048 m) high to a backboard at each end of the court) while preventing the opposing team from shooting through their own hoop. The game involves a great deal of running and jumping. Therefor, the sneaker being worn is very important and should provide good ankle support.
Apparel Search is a leading guide to fashion, style, clothing, glam and all things relevant to apparel. We hope that you find this Women's High Top Basketball Shoes page to be helpful.
You might also want to learn about sneaker release dates if you are interested in limited addition sneakers.

If you want to be even more stylish, you should wear your favorite high top basketball sneakers. You know, I bet you would look good wearing them.
Have you seen our Fashion Designer Directory section?