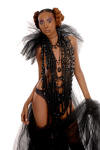 In a highly anticipated return to New York City, leading Middle Eastern fashion label,
Soucha Haute Couture
, will present its latest collection of inspired designs at Couture Fashion Week on Friday 13 February 2009 at the world-famous Waldorf-astoria Hotel.
Cairo-based Soucha Fashion is considered one of the leading fashion trendsetters in the region. A native of Tunisia, Soucha is a talented young fashion artist and graduate of the famed Academia Della Moda in Florence, Italy. After his schooling, Soucha worked with top Italian fashion houses and eventually settled in Cairo, finding his niche dressing the stars and celebrities of the Egyptian and Arab entertainment world with his unique fashion creations. In 1997 he launched his own brand and continues to lead and chair the thriving and developing business. Soucha Fashion today has 20 employees, excels in impeccable couture design and manufacturing, and operates two exclusive Cairo boutiques in the Grand Hyatt Galleria and the Nile City Mall Twin Towers. Catering to the A and B class of the Egyptian and Arab consumer, Soucha Fashion continues to expand in the region with representation and sales in major markets such as Saudi Arabia, Kuwait and Qatar. The company has plans for further retail growth as well as development into casual wear and accessories.
Soucha regularly shows his exquisite evening and bridal creations at top fashion events and is the recipient of numerous awards including Face of Africa - Best Designer. He made his USA debut in September 2008 at Couture Fashion Week in New York City to enthusiastic reviews.

"We are really looking forward to Soucha's fashion show this season," says event producer Andres Aquino. "He has a flair for the dramatic and pays great attention to every detail of his presentation - from the beautiful fashions to the glamorous accessories and lavish hair and makeup. Soucha's fashion shows are a visual treat."
Couture Fashion Week is a multi-day event showcasing couture and luxury fashion. It also includes exhibits of luxury brands and fine art as well as world-class entertainment and receptions. The event is held in top venues in New York City, Palm Beach, Florida and other selected cities and is attended by upscale consumers, invited VIPs, the press and high-end store buyers. Couture Fashion Week offers unique branding opportunities for luxury products and services.
Learn more about Couture Fashion Week
You may have interest in reading a few past articles regarding Couture Fashion Week.
Andres Aquino Collection At Couture Fashion Week February 2009
Fashion Article Posted January 27, 2009
Linda Ellis to Debut Fresh Collection of Hand-painted Silk Fashions in New York
Fashion Article Posted January 27, 2009
Nina Gleyzer Classic and Sophisticated Collection Returns to New York's Couture Fashion Week
Fashion Article Posted January 27, 2009
Catalin Botezatu Returns to New York's Couture Fashion Week
Fashion Article Posted January 27, 2009
Designer Dany Atrache to Make USA Debut at Couture Fashion Week New York
Fashion Article Posted January 27, 2009
Ann Spoyer to Show Collection of Exotic Elegance at Couture Fashion Week Spring 2009
Fashion Articles Posted August 20, 2008
Jean Fares To Show Designs of Passion and Elegance at Couture Fashion Week Fashion Event Article Posted January 20,2008
Creations by Hair Stylist to the Stars Federico Calce to Sparkle at Couture Fashion Week September 2007
Hairstylist Article Posted August 3, 2007
Glamour, Glitz and Branding at Couture Fashion Week
Fashion Trade Show Article Posted August 1, 2007
Chicago Couture Fashion Week Line Up
Fashion Article Posted April 26, 2007
Latest Couture Fashion Week Event Showcases Diverse Luxury Creations
Fashion Article Posted March 7, 2007
Croatian Designer Gordana Radic Returns to Couture Fashion Week with Magic Night Collection Fashion News Article Posted February 5, 2007
Get more fashion news and fashion articles about fashion week events.