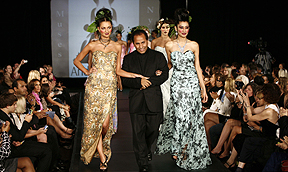 Multitalented designer Andres Aquino will present his latest collection entitled
Journey at Couture Fashion Week. The fashion show will take place on Valentine's Day, Saturday February 14, 2009 at 4:00 p.m. at the world famous Waldorf Astoria Hotel in New York City.
Mr. Aquino's long trajectory of artistic endeavors has taken him from theater directing and writing to show production and fashion design. His collections have been featured in TV shows and magazines in Europe, Asia and North and South America, and he has shown his designs on the Couture Fashion Week runways for several years.
The collection is inspired by the beauty of different regions and cities of the world and is a tribute to the inner and outer beauty of women around the globe. The collection is also a complement to Mr. Aquino's upcoming book of poetry whose major theme is the continuing journey in the endless pursuit of beauty as his muse.
In addition to being the founder and producer of Couture Fashion Week, Andres Aquino is also a talented writer and fine art photographer.
This season's creations are of rich French, Japanese and Indian lace among other fine fabrics and combine elements of dance and fashion. Special one-of-a-kind matching shoes for this collection are being crafted by extraordinary British shoe designer Silvia Campbell. Some of the beautiful ensembles will be adorned by Kenyan-born designer Nasimiyu Wekesa whose jewelry has been worn by Christy Turlington, Patti Scialfa Springsteen and other celebrities.
The impeccable hair styling for the fashion show will be done by hair stylist to the stars Federico Calce of Federico Salon in New York, and makeup will be done by film and runway makeup artist Mahealani Diego.
Couture Fashion Week is a multi-day event showcasing couture and luxury fashion. It also includes exhibits of luxury brands and fine art as well as world-class entertainment and receptions. The event is held in top venues in New York City, Palm Beach, Florida and other selected cities and is attended by upscale consumers, invited VIPs, the press and high-end store buyers. Couture Fashion Week offers unique branding opportunities for luxury products and services.
Learn more about Couture Fashion Week
You may have interest in reading a few past articles regarding Couture Fashion Week.
Linda Ellis to Debut Fresh Collection of Hand-painted Silk Fashions in New York
Fashion Article Posted January 27, 2009
Award-winning Fashion Designer Soucha Returns to New York's Couture Fashion Week
Fashion Article Posted January 27, 2009
Nina Gleyzer Classic and Sophisticated Collection Returns to New York's Couture Fashion Week
Fashion Article Posted January 27, 2009
Catalin Botezatu Returns to New York's Couture Fashion Week
Fashion Article Posted January 27, 2009
Designer Dany Atrache to Make USA Debut at Couture Fashion Week New York
Fashion Article Posted January 27, 2009
Ann Spoyer to Show Collection of Exotic Elegance at Couture Fashion Week Spring 2009
Fashion Articles Posted August 20, 2008
Jean Fares To Show Designs of Passion and Elegance at Couture Fashion Week Fashion Event Article Posted January 20,2008
Creations by Hair Stylist to the Stars Federico Calce to Sparkle at Couture Fashion Week September 2007
Hairstylist Article Posted August 3, 2007
Glamour, Glitz and Branding at Couture Fashion Week
Fashion Trade Show Article Posted August 1, 2007
Chicago Couture Fashion Week Line Up
Fashion Article Posted April 26, 2007
Latest Couture Fashion Week Event Showcases Diverse Luxury Creations
Fashion Article Posted March 7, 2007
Croatian Designer Gordana Radic Returns to Couture Fashion Week with Magic Night Collection Fashion News Article Posted February 5, 2007
Get more fashion news and fashion articles about fashion week events.