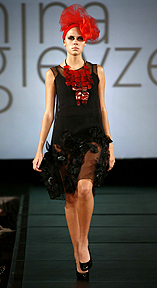 Accomplished designer Nina Gleyzer will return to New York in February 2009 to show her latest line of couture creations. Part of Couture Fashion Week, the runway show will be held at 8:30 p.m. on Friday February 13, 2009 in the Starlight Roof of the world-famous Waldorf-astoria Hotel.
Ms. Gleyzer debuted her signature couture line in September 2008 during Couture Fashion Week in New York to enthusiastic reviews.
A native of St. Petersburg, Russia, Nina Gleyzer is a master of couture design. An acclaimed European designer, Ms. Gleyzer moved to the United States in 1990. By 1996, Atlanta Magazine had already named her boutique a
World Class Best of Atlanta.
Europe's loss was America's gain.
An established treasure of the Buckhead, Atlanta community, Ms. Gleyzer moved from custom dress design to launch her own couture line in 2008.
Nina Gleyzer's beautiful refined creations draw inspiration from the softness of a flower petal to the intricacy of a spider web to the billowing of wheat in the wind, reflecting the designer's love for the world's natural beauty. With a pallete of feminine lines, dramatic colors, and innovative fabrication, Ms. Gleyzer choreographs a dance of elegance and sophistication.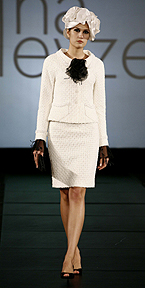 Nina is a passionate designer, a poet of couture," says Couture Fashion Week producer Andres Aquino. "We are excited to have her return to our New York event with her latest meticulously crafted and inspired collection."
Couture Fashion Week is a multi-day event showcasing couture and luxury fashion. It also includes exhibits of luxury brands and fine art as well as world-class entertainment and receptions. The event is held in top venues in New York City, Palm Beach, Florida and other selected cities and is attended by upscale consumers, invited VIPs, the press and high-end store buyers. Couture Fashion Week offers unique branding opportunities for luxury products and services.
Learn more about Couture Fashion Week
You may have interest in reading a few past articles regarding Couture Fashion Week.
Andres Aquino Collection At Couture Fashion Week February 2009
Fashion Article Posted January 27, 2009
Linda Ellis to Debut Fresh Collection of Hand-painted Silk Fashions in New York
Fashion Article Posted January 27, 2009
Award-winning Fashion Designer Soucha Returns to New York's Couture Fashion Week
Fashion Article Posted January 27, 2009
Catalin Botezatu Returns to New York's Couture Fashion Week
Fashion Article Posted January 27, 2009
Designer Dany Atrache to Make USA Debut at Couture Fashion Week New York
Fashion Article Posted January 27, 2009
Ann Spoyer to Show Collection of Exotic Elegance at Couture Fashion Week Spring 2009
Fashion Articles Posted August 20, 2008
Jean Fares To Show Designs of Passion and Elegance at Couture Fashion Week Fashion Event Article Posted January 20,2008
Creations by Hair Stylist to the Stars Federico Calce to Sparkle at Couture Fashion Week September 2007
Hairstylist Article Posted August 3, 2007
Glamour, Glitz and Branding at Couture Fashion Week
Fashion Trade Show Article Posted August 1, 2007
Chicago Couture Fashion Week Line Up
Fashion Article Posted April 26, 2007
Latest Couture Fashion Week Event Showcases Diverse Luxury Creations
Fashion Article Posted March 7, 2007
Croatian Designer Gordana Radic Returns to Couture Fashion Week with Magic Night Collection Fashion News Article Posted February 5, 2007
Get more fashion news and fashion articles about fashion week events.