Award-winning fashion designer Catalin Botezatu of Romania will return to New York's Couture Fashion Week with the presentation of his most recent collection of innovative creations on Friday 13 February 2009. The much anticipated fashion show will be held at the world-famous Waldorf-astoria on New York City's famed Park Avenue.
One of Romania's top designers, Catalin Botezatu began to work as a fashion designer in 1992 and established his own fashion house in 1996. He is one of the few major fashion designers who directs and styles his own shows and makes all his accessories (jewelry, shoes, and hats). His distinguished clientele includes politicians, socialites, VIPs, entertainers and celebrities. Nevertheless, his beautiful couture designs appeal to every woman looking to bring out her femme fatale side through sensual, refined and sophisticated fashions.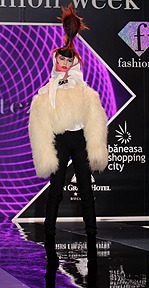 A prolific and energetic fashion icon, Catalin Botezatu has done fashion shows all over the world including Rome, Monte Carlo, Cannes, Milan, Paris, Moscow, Budapest, Ibiza, Malta, Sun City South Africa, Windock Namibia, Turkey, Jamaica and New York, and his fashion accomplishments have been featured in prominent publications and media worldwide, including Der Stern, Book Moda, Financial Times, EuroNews, Deutsche Welle, World Fashion TV, and the Italian television networks RAI, TG3 and Italia Piu. His designs were shown on the catwalk as part of the Ford Agency's Supermodel of the Year competition in Las Vegas and he has staged fashion shoots and shows at the Amir Palace in Tunis, as well as in Luxor and Cairo, Egypt. He has been a participating designer in Fashion Weeks around the globe, from Moscow to Bali, from Iceland to New York, from Athens to the Caribbean, from Bucharest to Brooklyn.
"I am very pleased to invite Catalin Botezatu to Couture Fashion Week," says event producer Andres Aquino. "He brings creative and innovate concepts and his presentations are always theatrical and artistic"
Mr. Botezatu has been named "Designer of the Year" six years in a row by VIP Magazine (Romania), and has twice been presented with the "Award for Excellence in Fashion" by Fashion TV Romania, in addition to numerous other fashion awards around the world.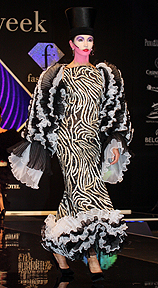 In addition to his exquisite couture designs, Catalin Botezatu is also famous for his women's lingerie and men's underwear creations. He has produced over 25 men's underwear fashion shows. Most of his fashion shows are broadcast by Fashion TV.
In 2008 Catalin Botezatu began a strong promotion campaign in the American fashion market. He had an amazing fashion show at Couture Fashion Week New York, followed by fashion shows in Brooklyn, on Broadway and in Chicago. In January 2009 Mr. Botezatu presented the first pret-a-porter collection for the prestigious German label Quelle. Fashion icon Karl Lagerfeld previously designed for the Quelle label.
Couture Fashion Week is a multi-day event showcasing couture and luxury fashion. It also includes exhibits of luxury brands and fine art as well as world-class entertainment and receptions. The event is held in top venues in New York City, Palm Beach, Florida and other selected cities and is attended by upscale consumers, invited VIPs, the press and high-end store buyers. Couture Fashion Week offers unique branding opportunities for luxury products and services.
Learn more about Couture Fashion Week
You may have interest in reading a few past articles regarding Couture Fashion Week.
Andres Aquino Collection At Couture Fashion Week February 2009
Fashion Article Posted January 27, 2009
Linda Ellis to Debut Fresh Collection of Hand-painted Silk Fashions in New York
Fashion Article Posted January 27, 2009
Award-winning Fashion Designer Soucha Returns to New York's Couture Fashion Week
Fashion Article Posted January 27, 2009
Nina Gleyzer Classic and Sophisticated Collection Returns to New York's Couture Fashion Week
Fashion Article Posted January 27, 2009
Designer Dany Atrache to Make USA Debut at Couture Fashion Week New York
Fashion Article Posted January 27, 2009
Ann Spoyer to Show Collection of Exotic Elegance at Couture Fashion Week Spring 2009
Fashion Articles Posted August 20, 2008
Jean Fares To Show Designs of Passion and Elegance at Couture Fashion Week Fashion Event Article Posted January 20,2008
Creations by Hair Stylist to the Stars Federico Calce to Sparkle at Couture Fashion Week September 2007
Hairstylist Article Posted August 3, 2007
Glamour, Glitz and Branding at Couture Fashion Week
Fashion Trade Show Article Posted August 1, 2007
Chicago Couture Fashion Week Line Up
Fashion Article Posted April 26, 2007
Latest Couture Fashion Week Event Showcases Diverse Luxury Creations
Fashion Article Posted March 7, 2007
Croatian Designer Gordana Radic Returns to Couture Fashion Week with Magic Night Collection Fashion News Article Posted February 5, 2007
Get more fashion news and fashion articles about fashion week events.