Leading French-lebanese fashion designer Dany Atrache will have his U.S. debut at
Couture Fashion Week in New York City
. The highly anticipated fashion show will be held at 6:00 p.m. on Friday February 13, 2009 at the world-famous Waldorf Astoria hotel.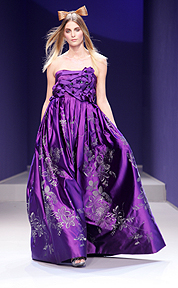 Dany Atrache is considered one of the leading fashion trendsetters in the MEA. He successfully completed his studies in 1995 at ESMOD, the most prestigious fashion school in Paris, where he was awarded the top prize by the Grand Jury, a gathering of the most renowned fashion designers worldwide.
After working for 12 years in Paris with top French fashion houses including Dior, Montana and Torrente Uniforme, Mr. Atrache decided to return to Lebanon with the goal of turning his fashion dreams into reality. His aspiration, creativity, ambition and hard work led to the launch of his own couture line in 2000. His stunning collection premiered at his first runway show in Beirut mesmerizing the audience with the exclusive designs. In no time, Dany Atrache was dressing the stars and celebrities of the Arab entertainment world with his unique and exquisite pieces.
Following his great success in Beirut, Mr. Atrache expanded his shows to Paris, the fashion capital of the world, where he hosted his first private fashion show in 2004. He continues to regularly present unforgettable collections during the famed Paris Haute Couture season.
In 2007, Dany Atrache expanded his line and launched his ready-to-wear collection, "D by Dany Atrache".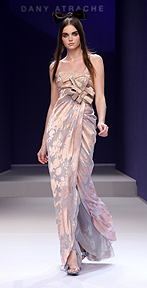 As he continues to take on new challenges, Mr. Atrache is looking forward to the showing of his Spring/summer 2009 collection in New York City. This latest collection harkens back to the 1970's, resurrecting the hippie-chic look with astonishing graphic prints, bold colors and sheer fabrics married with lustrous embroidery. These designs are a tribute to the glamorous woman of Paris, Los Angeles and New York.
"We are delighted to have the distinguished designer Dany Atrache participate in our event," says Couture Fashion Week producer Andres Aquino. "His fine work will surely catch the imagination of the American market."
Couture Fashion Week is a multi-day event showcasing couture and luxury fashion. It also includes exhibits of luxury brands and fine art as well as world-class entertainment and receptions. The event is held in top venues in New York City, Palm Beach, Florida and other selected cities and is attended by upscale consumers, invited VIPs, the press and high-end store buyers. Couture Fashion Week offers unique branding opportunities for luxury products and services.
Learn more about Couture Fashion Week
You may have interest in reading a few past articles regarding Couture Fashion Week.
Andres Aquino Collection At Couture Fashion Week February 2009
Fashion Article Posted January 27, 2009
Linda Ellis to Debut Fresh Collection of Hand-painted Silk Fashions in New York
Fashion Article Posted January 27, 2009
Award-winning Fashion Designer Soucha Returns to New York's Couture Fashion Week
Fashion Article Posted January 27, 2009
Nina Gleyzer Classic and Sophisticated Collection Returns to New York's Couture Fashion Week
Fashion Article Posted January 27, 2009
Catalin Botezatu Returns to New York's Couture Fashion Week
Fashion Article Posted January 27, 2009
Ann Spoyer to Show Collection of Exotic Elegance at Couture Fashion Week Spring 2009
Fashion Articles Posted August 20, 2008
Jean Fares To Show Designs of Passion and Elegance at Couture Fashion Week Fashion Event Article Posted January 20,2008
Creations by Hair Stylist to the Stars Federico Calce to Sparkle at Couture Fashion Week September 2007
Hairstylist Article Posted August 3, 2007
Glamour, Glitz and Branding at Couture Fashion Week
Fashion Trade Show Article Posted August 1, 2007
Chicago Couture Fashion Week Line Up
Fashion Article Posted April 26, 2007
Latest Couture Fashion Week Event Showcases Diverse Luxury Creations
Fashion Article Posted March 7, 2007
Croatian Designer Gordana Radic Returns to Couture Fashion Week with Magic Night Collection Fashion News Article Posted February 5, 2007
Get more fashion news and fashion articles about fashion week events.