Ashley Olsen was spotted in Earnest Sewn denim while moving boxes in NYC. The fashion mogul looked casual in her custom faded black jeans.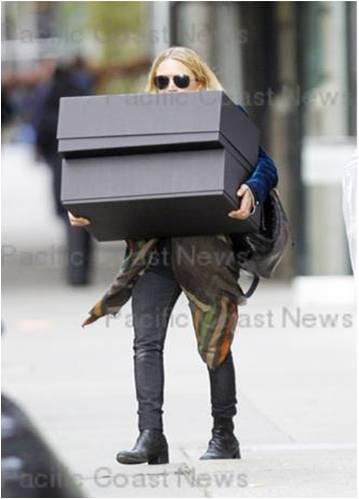 Image Source: Pacific Coast News: www.pacificcoastnews.com
Are you sure that is her behind that gigantic box?
You may want to read about Katherine Heigl Wearing Earnest Sewn in Los Feliz, CA recently. By the way, Katherine had also worn Earnest Sewn earlier in March as well. If were not aware, Katie Holmes and Cindy Crawford have also been spotted in Earnest Sewn jeans.
Read more fashion news articles from 2012: January 2012 Fashion Articles
Read more fashion industry news archive from 2011: 2011 Archive Fashion Articles
Read more fashion articles from 2010: 2010 Archive Fashion Articles
Read more fashion articles from 2009: 2009 Archive Fashion Articles