Known for its quirky out-of-the-box thinking, Los Angeles-based clothing company, Junk Food is launching retail stores in a revolutionary way at Westfield Topanga: on the wall. The revolutionary shopping experience, offers a signature fun boutique charm to the wall allowing users to select from a constantly rotating inventory of popular vintage t-shirts, to a direct purchase right from their smartphones, and have it delivered straight to their doorstep! Powered by RedLaser exclusively at Westfield Topanga, the digital wall will feature revolving pop-up statements monthly and will be a physical face for Junk Food's online boutique with over 800 pop-culture licenses. The digital store provides consumers a fun and engaging point of purchase, taking fashion retail to 3.0! Junk Food's first digital store, featuring men's and women's designs, launched with Warner Bros. at Westfield Topanga in the San Fernando Valley of California on August 1, and will be followed by a rollout to its other Westfield US locations throughout 2012 and 2013.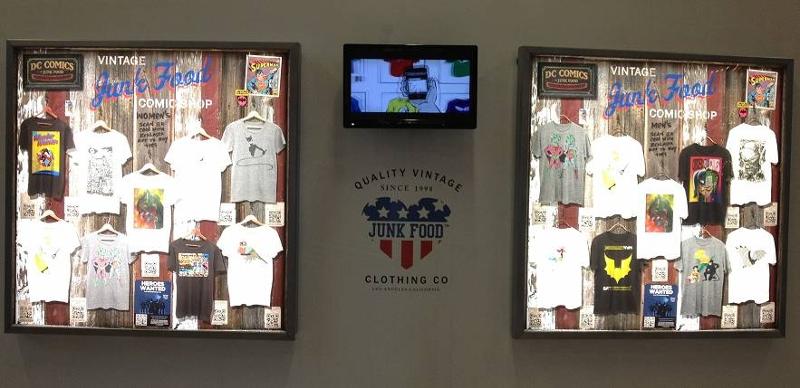 Shoppers can browse Junk Food's exclusive designs and use their smart-phones to purchase limited edition t-shirts from QR barcodes and have their custom tees printed and shipped immediately. Consumers can select a tee off a virtual Junk Food light box display that mimics a retail general store experience, and scan a barcode placed next to each t-shirt style, which pulls up a multi-view product description page allowing shoppers to purchase with just a few quick clicks and have their selections shipped out the same day!
"We are incredibly excited to be launching our new retail store format with such market leaders. All share in the excitement of introducing a revolutionary retail format that is not only technologically advanced, but also enables constant newness and a reduced environmental footprint. We believe that this represents a future shift in retail, which is much more nimble and dynamic," states Andrei Najjar, Junk Food's Vice President of Marketing.
The concept launched with Warner Bros. Consumer Products and DC Entertainment and an exclusive DC Comics art capsule pop-up supporting the We Can Be Heroes giving campaign; http://www.wecanbeheroes.org/darknessandlight. The DC Comics art capsule at Westfield is an evolution of the recently launched digital museum shop at last month's Darkness & Light: Art Inspired by Heroes & Villains, Hope & Heroism exhibition in San Diego as Junk Food, DC Entertainment and Warner Bros. Consumer Products teamed up to offer fans the art collection in this high-tech, innovative format.
About Junk Food
Junk Food came onto the scene in 1998 as the original vintage t-shirt company, creating and forever changing the premium t-shirt market. Known for its soft, comfy fabrics and witty art, Junk Food is a celebrity favorite carried throughout the top stores throughout the world. Also a licensing powerhouse, Junk Food has distribution rights to over 800 pop-culture properties across multiple categories including rock & roll, characters, movies, sports, and foods.
About Warner Bros. Consumer Products
Warner Bros. Consumer Products, a Warner Bros. Entertainment Company, is one of the leading licensing and retail merchandising organizations in the world.
About DC Entertainment
DC Entertainment, home to iconic brands DC Comics (Superman, Batman, Green Lantern, Wonder Woman, The Flash), Vertigo (Sandman, Fables) and MAD, is the creative division charged with strategically integrating its content across Warner Bros. Entertainment and Time Warner. DC Entertainment works in concert with many key Warner Bros. divisions to unleash its stories and characters across all media, including but not limited to film, television, consumer products, home entertainment and interactive games. Publishing thousands of comic books, graphic novels and magazines each year, DC Entertainment is the largest English-language publisher of comics in the world. In January 2012, DC Entertainment, in collaboration with Warner Bros. and Time Warner divisions, launched We Can Be Heroes-a giving campaign featuring the iconic Justice League super heroes-to raise awareness and funds to fight the hunger crisis in the Horn of Africa.
About We Can Be Heroes
We Can Be Heroes is a giving campaign designed to raise awareness and funds for the hunger crisis in the Horn of Africa. Using the iconic Justice League characters from DC Entertainment, We Can Be Heroes aims to raise substantial funds for three humanitarian aid organizations working in Africa: Save the Children, International Rescue Committee, and Mercy Corps. DC Entertainment will match donations up to $1 million in total donations, and 50% of the purchase price from We Can Be Heroes products will go directly to saving lives. Learn more, donate and get involved at www.WeCanBeHeroes.org.
About The Westfield Group
Westfield Group (ASX: WDC) is an Australian-based company with interests in 111 shopping centers in Australia, Brazil, New Zealand, the United Kingdom and the United States. In the U.S., the Group has a portfolio of 48 shopping centers that are home to more than 8,000 specialty stores and comprise approximately 57 million square feet of leasable space in California, Connecticut, Florida, Illinois, Indiana, Maryland, New Jersey, New York, North Carolina, Ohio and Washington.
Learn more about Junk Food here on Apparel Search.
Read more fashion news articles from 2012:
Read more fashion industry news archive from 2011: 2011 Archive Fashion Articles
Read more fashion articles from 2010: 2010 Archive Fashion Articles
Read more fashion articles from 2009: 2009 Archive - Fashion Article
If you want your press releases about fashion to be published, you are welcome to submit them to Apparel Search at any time. In addition, you may want to submit your articles to the Fashion Newspaper.