Here on Apparel Search you can learn more about
fashion
in many various ways. Certainly, one way is to read fashion news articles.

If you have suggestions on ways that we can improve this page, please do not hesitate to let us know.
We wanted to introduce you to jewelry designer Annie Hammer who creates bold, focused pieces, by mixing shapes and textures to create what a fellow artist has called "fierce elegance". Crenulated beads ride on a smooth crescent of silver to encircle a wrist. Thick ropes of silver mesh meet in a jangle of pink pearls, tourmalines and sliding rings. A heavy brushed silver chain takes an unexpected turn to finish with a faceted amethyst.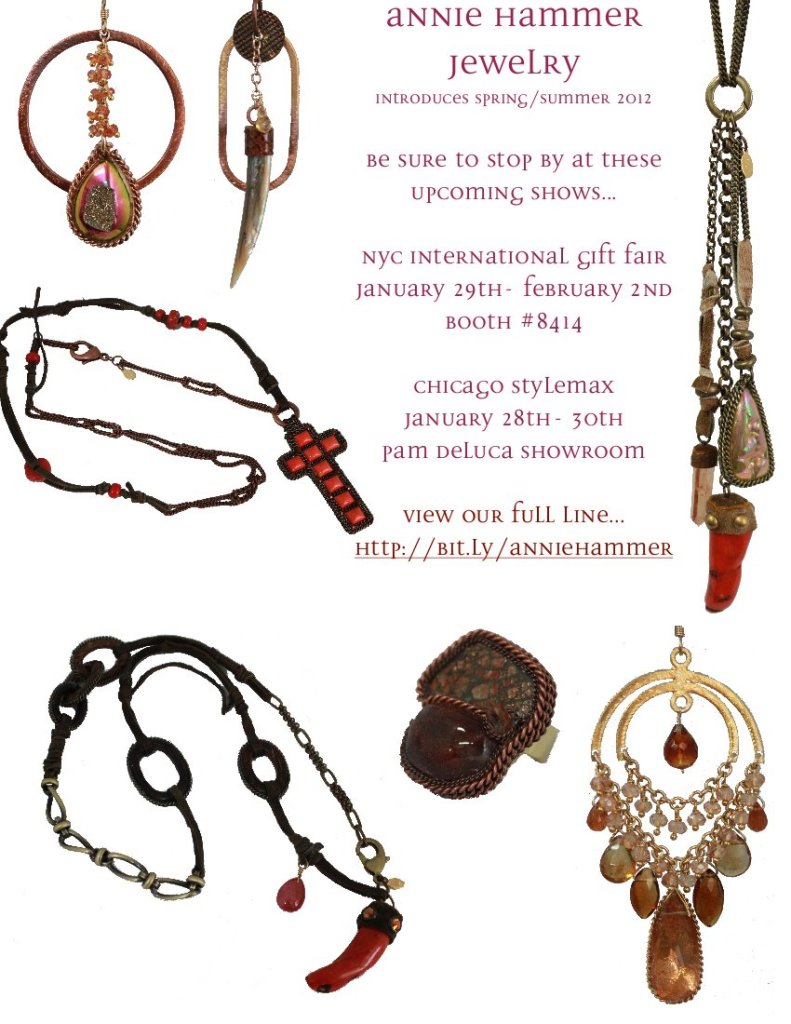 For Hammer, it's a simple, inborn way of looking at the world - who envisions things in sculptural form and then makes it into jewelry. While her roots may be in surrealism, these days Hammer finds inspiration in everyday objects - in shapes, in shoes, in the middle of the night.
Her newest Spring/Summer 2012 Collection, which you can see here bit.ly/anniehammer, includes the following materials:
Druzy

Crystal Points

Wood

Feathers

Leather

Mother of Pearl

Boar's Tusk

Bone

Semi Precious Stones

Sting Ray
You can take a look at her Spring/Summer 2012 Collection, and stop by Booth #8414 if you're planning on attending the upcoming NY International Gift Fair January 29th - Feb 2nd.
Read more fashion news articles from 2012: January 2012 Fashion Articles
Read more fashion industry news archive from 2011: 2011 Archive - Fashion Articles
Read more fashion articles from 2010: 2010 Archive - Fashion Articles
Read more fashion articles from 2009: 2009 Archive - Fashion Articles

Follow us on Social Networks:
Follow Apparel Search on Twitter
Follow Apparel Search on Youtube
Follow Apparel Search on Facebook
Fashion on Google+
If you want your press releases about fashion to be published, you are welcome to submit them to Apparel Search at any time. In addition, you may want to submit your articles to the Fashion Newspaper.

Search for additional information about Apparel, Fashion or Clothing.
Jewelry Guide
Jewelry News
Jewelry Network
Jewelry Group
Women's Fashion
You may also find the following links to be of assistance:

Fashion Jobs
Designer Search
Fashion Forecasting
Celebrity Fashion
Luxury Fashion
Fashion Week
Fashion Brands
Fashion Trends

You may also have interest in the fashion shopping articles ...
If you are tired of simply reading about fashion, you may want to take a break and do a little shopping. If that is the case, you are welcome to visit our shopping section from the links below:
Shopping For Children's Clothing

Here are a few more apparel news resources that you may enjoy.
You may want to also visit the new fashion articles site (FashionArticles.net)
Have you ever dreamed of becoming a fashion designer?