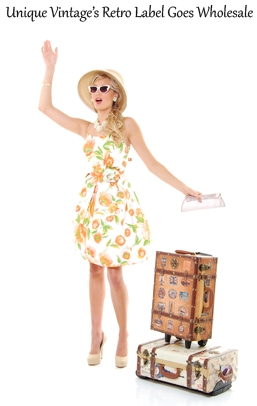 The vintage-inspired clothing company Unique Vintage is now offering a selection of their eponymous line of retro-style dresses and swimsuits to the wholesale market.
Since its inception 11 years ago, the Unique Vintage label has been extremely successful for the retailer, which encompasses a busy online retail business and a brick and mortar boutique in Burbank, CA. "Over the years, we've literally had hundreds of customers asking if they can buy our clothing in various parts of the country, even other parts of the world," says Unique Vintage owner Katie Echeverry. "We decided that if they didn't feel comfortable shopping online, we should offer them an alternative. We feel this is a great time for us to expand our reach and offer our Unique Vintage designs to other shops and boutiques with a similar aesthetic."
The selection of wholesale designs available to retailers include a dazzling array of strapless chiffon swing dresses, satin pleated swing dresses, cotton halter-top swing dresses (a.k.a. the Flirty) in a variety of colors and prints, tea-length wedding dresses, and high-waisted bikinis and maillot-style one-piece swimsuits.
To avoid online competition and confusion, the wholesale line is being offered to brick and mortar locations only. Unique Vintage will in no way sell to online boutiques. However, Unique Vintage is going worldwide with their wholesale efforts. Have a dress shop in the U.K., Amsterdam or Australia? You, too, can carry the Unique Vintage label.
The minimum opening order is $500 with a three piece per style requirement. If a retailer would like to purchase a Unique Vintage design that is found on their website, but not in the wholesale catalog, they can receive 30% off the retail price as long as that order meets the $500 minimum/ three piece per style guidelines.
Most of the Unique Vintage designs are ready for immediate shipment. Credit cards and Paypal are accepted.
*The Unique Vintage wholesale catalog for Spring 2012 can be found here: http://www.youblisher.com/p/214080-wholesale-lookbook/
About UniqueVintage.com:
UniqueVintage.com is an e-retailer that sells affordable women's vintage-inspired clothing and accessories. For anyone with a love of retro, mod and old Hollywood glamour, shopping at this vintage-inspired clothing Mecca is like being a kid in a candy store. Unique Vintage carries 1920's flapper-style dresses, 1930's inspired red carpet dresses, 1950's style "Mad Men" and swing dresses, "Esther Williams-style" pin up bathing suits as well as 1960's style mod dresses. For added bling, both modern day and vintage-inspired accessories including jewelry, shoes and purses are also available. Unique Vintage designs many of its own dresses and swimsuits under its exclusive Unique Vintage brand and carries several other fabulous designer brands as well including Stop Staring, Queen of Heartz, Sue Wong, Maggie Sottero and Allure Bridal. Retro-chic finds for men, kids and home are also available.
Many of Unique Vintage designs have been worn on TV shows including "Parenthood", "Glee", "True Blood", "The View" and "Access Hollywood".
Media outlets such as InStyle, Lucky, People and Redbook regularly feature Unique Vintage clothing and accessories.
The Unique Vintage brick and mortar boutique is located at 2013 W. Magnolia Blvd., Burbank, CA 91506.
Read more fashion news articles from 2012: January 2012 Fashion Articles
Read more fashion industry news archive from 2011: 2011 Archive Fashion Articles
Read more fashion articles from 2010: 2010 Archive Fashion Articles
Read more fashion articles from 2009: 2009 Archive Fashion Articles