Women's Clothing >> Men's Clothing >> Women's Coats >> Men's Coats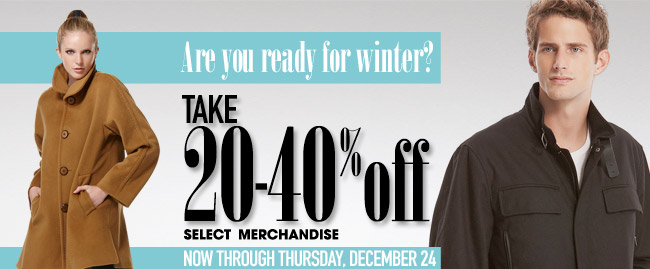 Shopping at Bloomingdales is always a "good" idea. Now through Thursday December 24th is even a "better" idea. They are having a sale on select merchandise. See their store or website for details.
Shop at Bloomingdales.
◊ Learn more about Bloomingdales
◊ Shopping For Women's Clothing
◊ Shopping For Children's Clothing

Previous fashion shopping articles for your review: 2009 Shopping Articles or 2008 Fashion Shopping Articles.
Fashion Article Archive:
2009 Fashion Shopping Articles
September 2009 Fashion Articles
October 2009 Fashion News Articles
November 2009 Fashion Articles
December 2009 Fashion Articles
Check out our new clothing guides. Great information regarding women's clothing, men's clothing and children's clothing. The section is not really for shopping, but a good place to learn more about apparel.
Women's Clothing

Men's Clothing

Children's Clothing