Are you shopping for yourself or the man in your life? Either way, you may wish to check the Hugo collection at Bloomingdales. You will find many fantastic coats, dress shirts, sweaters and more for fall 2010. Possibly, the Brist Plaid Double breasted wool peacoat or the Hugo Basilius Zip Jacket would be right for you. Personally, I like the Hugo Blan zip up hooded jacket pictured below.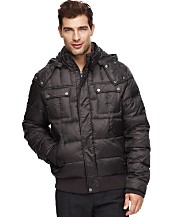 Zip up puffer jacket with snap button placket overlay. Two snap and two zip pockets in front. Knit collar, cuffs and hem. Detachable hood. Polyamide Machine wash Imported Web ID: 488759
Learn more about Hugo Boss from their website.
By the way, you can discuss Hugo Boss fashion at the Hugo Boss fashion group on the Fashion Industry Network.
Shop at Bloomingdales.
◊ Learn more about Bloomingdales
Learn more the men's Hugo Boss brand and other popular fashion brands.
Fashion Ready for Rain at Bloomingdales 2010
Fashion Shopping Article Posted September 9, 2010
RLX Ralph Lauren Men's Fashion at Bloomingdales Polo Ralph Lauren introduces its RLX concept carrying active lifestyle gear. Ralph Lauren RLX is an active lifestyle collection. Learn more about RLX at the Ralph Lauren website.
Fashion Shopping Article Posted March 31, 2010
Holiday Sales 20-40 Percent Off At Bloomingdales Three Days Left Holiday 2009
Fashion Shopping Article Posted December 22, 2009
Coats For Him at Bloomingdales 2009
Fashion Shopping Article Posted October 12, 2009
Coats For Him at Bloomingdales 2009
Fashion Shopping Article Posted September 29, 2009
Ugg Australia For The Whole Family at Bloomingdales 2009
Fashion Shopping Article Posted September 22, 2009
Polo Ralph Lauren For Men At Bloomingdales
Fashion Shopping Article Posted September 1, 2009
New Men's Fashion Designers at Bloomingdales
Fashion Shopping Article Posted August 18, 2009
American Designers For Mens Fashion Bloomingdales
Fashion Shopping Article Posted August 17, 2009
Bloomingdale's Florida and NYC Designer Launch Spring Fashion
Fashion Event Article Posted February 24, 2009
Bloomingdale's Will Open a Store In Dubai (UAE) in 2010
Fashion Article Posted September 22, 2008