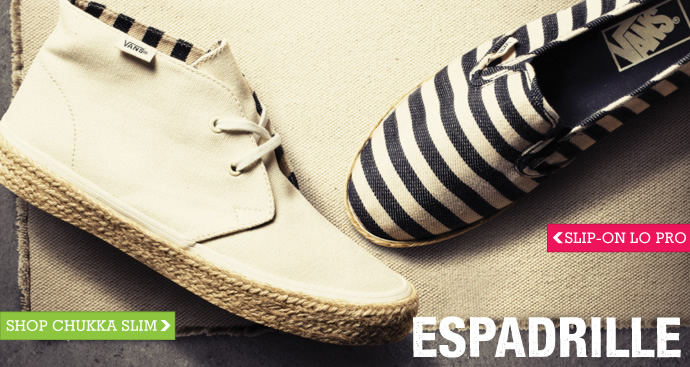 This new Slip-on Lo Pro style takes on the classic look of a causal French Riviera style. The low profile skate design combines with that of a vintage espadrille slipper.
These new espadrille slip-ons from Vans are said to be comfortable, lightweight and super cute.
You can learn more about Vans at Vans.com or here on Apparel Search in the Vans company profile section.
Learn more about Vans from some of the past articles. This is just a brief sampling.
Valentine Vans 2010
February 2, 2010
Vans Thanksgiving 2009 Promotions
Fashion Shopping Article Posted November 21, 2009
Vans Halloween 2009 Shoes on Sale
Fashion Shopping Article Posted October 24, 2009
Free Shipping For Back To School 2009 at Vans
Fashion Shopping Article Posted August 18, 2009
Vans Footwear Collection Summer 2009
Fashion Shopping Article Posted July 21, 2009
Custom Shoes : Vans Shoe Envy
Fashion Article Posted May 8, 2009
Vans Thanksgiving Day Coupon
Fashion Shopping Article Posted November 21, 2008