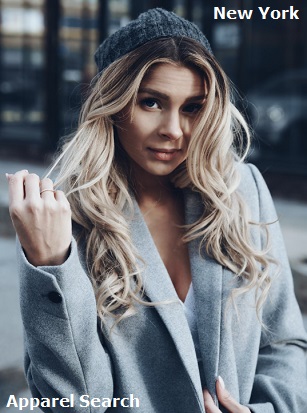 You can find plenty of fabulous fashion boutiques in New York as well as department stores, discount stores, etc. If you are looking for a clothing store in New York, check the listings below. If you know of others, let us know and we can possibly add them to this guide. Both New York State as well as NYC and other borrows are fantastic locations to shop for clothing, shoes, handbags, etc. New York City is a shopping and fashion paradise, but some of the best New York City shopping is a hidden secret and cannot be found in tour books. There are hundreds of distinct neighborhoods throughout the five boroughs of New York City, many with a definable history and character to call their own. Take your time to travel to all the borrows to find the best fashion shopping opportunities.

Adriennes (New York) Since 1950, Adriennes has offered exquisite designs and skilled alterations to their clients. They have two locations, one in Manhattan and one in Islip, Long Island.
---

Avon Products, Inc.: Beauty product for fashionable people. In over 100 countries, Avon is a leader in beauty and a powerhouse in direct selling. For their customer, they are a trusted name. Avon is the world's leading direct seller of beauty and related products, with $6.8 billion in annual revenues. Avon markets to women around the world through 4.4 million independent sales Representatives Avon product lines include such recognizable brand names such as Avon Color, Anew, Skin-So-Soft, Advance Techniques Hair Care, mark.(TM), beComing and Avon Wellness. Avon also markets an extensive line of fashion jewelry and apparel. Avon Products, Inc. Headquarters 1251 Avenue of the Americas New York, NY 10020 TEL 1-800-FOR-AVON 1-800-367-2866 or 1-212-282-7000
---

Barneys New York: Barneys New York is a luxury specialty retailer renowned for having the most discerning edit from the world's top designers, including women's and men's ready-to-wear, accessories, shoes, jewelry, cosmetics, fragrances, and gifts for the home. Barneys' signature sense of wit and style is manifested in its creative advertising campaigns, original holiday themes, and celebrated window displays. Today, Barneys New York operates flagship stores in New York City, Beverly Hills, Chicago, Seattle, Boston, San Francisco, Las Vegas and along with a preeminent luxury online store, Barneys.com, as well as 16 other full price stores and warehouse stores across the United States.
---

Bergdorf Goodman (Part of Neiman Marcus Group) Bergdorf Goodman Standing at the crossroads of fashion at Fifth Avenue and 58th Street in New York City, Bergdorf Goodman is known throughout the world for elegance, luxury, and superior service.
New York
---

Birchtree: is a women's clothing store located in Woodstock, New York, for more than 20 years. Their customers have many different lifestyles and vocations, but all seek elegance and comfort in their style of dress. Birchtree offers all sizes from Plus-Size to Petite. They specializes in super comfortable Flax clothing from Angelheart Designs while also offering stylish women's wear and accessories for all occasions from Cut Loose, Stephanie Schuster sweaters, Tom Tom, Gloria Thornton pants, Kusnadi, Avalin sweaters, and much, much more. Shop and chat with them at their Woodstock location or stop by a www.BirchtreeWoodstock.com any time! Visit often as styles, sizes and colors will be updated regularly. Address: 6 Tannery Brook Road Woodstock, New York 12498 United States Phone (845) 679-7585 Email: info@birchtreewoodstock.com Contact: Eliana / Owner
Gender: Women's
Store Type: Online and Brick & Mortar
Retail Category: Other
---

Bloomingdale's (Part of Federated) a leader in department store fashion, serves customers through 24 full-line department stores in 10 states. It focuses on upscale fashion apparel and home-related goods, with an emphasis on distinctive merchandise offerings. Known worldwide for its fashion sense and merchandising savvy, Bloomingdale's helped launch the careers of many now-famous designers. Among them are Ralph Lauren, Tommy Hilfiger, Calvin Klein and Donna Karan. New designers such as Shoshanna and Daryl K are being showcased today at Bloomie's and could well be the stars of tomorrow.
New York, NY
---

Cathy's Touch (New York): Cathy's Touch specializes in a complete line of first communion dresses and suits, christening outfits, flower girl dresses and ring bearer tuxedos from famous manufacturers to their own exclusive designs, from the simple to the simply elegant, your child's day will be memorable. Their accessories are custom made to compliment your child's outfit. They design their own headpieces, bouquets, shoes, pocketbooks, plus much more! They also carry a full line of unique gifts.
communion dresses
communion suits
christening clothing
flower girl dresses
ring bearer tuxedos
---

Century 21 Department Stores: Century 21 Department Store, also known as "New York's Best Kept Secret", has more than 15 departments of sensational quality and designer merchandise at 25%-75% off retail prices. Choose from the finest selection of European and American Designer Mens, Ladies, and Childrens Clothing, Mens, Ladies and Childrens Shoes, Lingerie, Linens, Cosmetics, Handbags, Luggage, Housewares and Electronics.
New York
---

Champs Sports: Champs Sports is a leading sports and lifestyle specialty retailer, known for its innovative merchandising approach, marketing programs, and ability to stay relevant with the trend setting, active, young consumer. They offer a selection of brand name and exclusive products in apparel, footwear, equipment and accessories. Their primary goal is being first to market with the better brand names. New York, NY Phone # (800) 991-6813 (USA)
---

Cloak & Dagger: The brand, while continuing to enjoy success stateside, is now truly an international presence, carried by the top stores in Japan, the Middle East and Europe. In the summer of 2009 Cloak & Dagger also opened its first freestanding store, in NYC's trendy East Village. While the collection is still available in boutiques. Cloak & Dagger's inventive juxtopositioning of intimate detailing, self designed patterns and luxury fabrics is a clear byproduct of the "eagle eye" Starnes developed in her many years styling for the top houses in fashion (among them Valentino, Prada and Zac Posen) and for some of Hollywood's most forward starlets. The clear sense of tailoring and style she developed along the way, with its romantic and vintage aesthetics, immediately caught the eye of editors and buyers, and virtually overnight the line became a critical and commercial darling. Cloak & Dagger has been featured in top publications since its inception: Vogue, Elle, The Wall Street Journal and New York Magazine.
---

Dave's Army & Navy Store: Family owned and operated for over 40 years, Dave's New York features branded "Americana" rugged and casual clothing. Interactive American icon brands such as Levi's, Carhartt, Red Wing, Dickies, Schott, Alpha, Woolrich, Columbia, and Chippewa are offered in a wide selection of models at very favorable pricing. Address: 581 Avenue of the Americas, New York 10001 Phone: (212) 989-6444 E-mail: info@davesnewyork.com
Men's Clothing Store

New York Clothing Store
---

Dress Barn: womens clothing store.With almost 800 stores across the country, dressbarn strives to maintain its distinctive position in the marketplace by providing its own private labels and contemporary fashions at great value in an environment that is friendly and trustworthy. Headquarters located in Suffren, New York.
---

If SOHO New York: IF was founded in 1978 by three siblings: Jeannette Bird, Johnny Farah and Soha Farah and is probably one of, if not the oldest clothing store still operating in Soho. Opening the first location on West Broadway between Prince and Houston Street in the 70's was a bold but practical gamble. The area south of Houston was not yet developed and considered to be one of the grittiest places in Manhattan. Full of sweatshops and small manufacturing businesses, it was a time when more and more artists and designers moved in which put Soho on the map as the cultural epicenter. With beautiful and historical iron cast buildings and huge loft spaces, more stores and many famous galleries soon followed.
---

Jildor Shoes: A footwear retailer and e-tailer providing luxury shoes for women since 1949. With main headquarters in Long island, they sell top shoe brands online and offline ranging from Tory Burch, Uggs, and Stuart Weitzman. Of course, they also offer the best selection in dress, casual, athletic & wide shoes. With their great service, it's no wonder they've been in business for over sixty years with no signs of stopping. Address 473 Central Ave. Cedarhurst, NY 11516-2009 Phone (516) 569-4880 Fax (516) 374-7058 E-mail dennis@ecommercepartners.net Contact: Dennis Consorte
Women's shoe store

Children's Shoes

Retailer
---

Kenneth Cole
New York, NY Phone # (800) 536-2653
---

Macy's, Inc. stands today as the nation's largest department store retailer. Macy's, Inc. celebrated its 75th birthday in 2004, but its retailing roots extend far beyond that, stretching back to the middle of the 19th century when most of its department store franchises were founded. The company built on those traditionally strong franchises, calling on the experience and innovative retail strategies of each division to contribute to Macy's, Inc.'s overall success. As a result, Macy's, Inc. understands and meets the needs of American consumers in ways unmatched by any other retailer, anywhere.
New York, NY
---

Modell's Sporting Goods: Sporting goods and athletic apparel super store.
New York, NY Phone # (212) 822-1000
---

Mystique Boutique NYC: Mystique Boutique NYC has the top trendy and affordable fashion clothing in NYC for women. Shop online clothes from New York at an affordable rate.
---
NYC Glamour Couture: NYC Glamour Couture is the best Luxurious Couture Boutique in New York! Their boutique carries the best brands and works with exclusive private designers around the world. Their unique prom collection, evening and pageant are the most well known in NYC and abroad. They also have a fashion consulting team that can assist via phone or in person in the store. They work hard to bring the best designs and combine luxury with glamorous unique style.
---

Vivaldi: One of NYC's top fashion boutiques and destination for woman's fashion and style, Vivaldi Boutique, located on the East Side of New York City, is a treasure trove of elegant women's wear for special occasions like weddings, bar/bat mitzvahs, galas, fundraisers, and other special events.
Best New York Shopping Destinations
Apparel Search Directory - Guide to Clothing Stores in New York
If you own or manage a clothing retail store, please let us know about your clothing store. It will be our pleasure to add your store to our retail clothing directory.
Learn more about New York Fashion.
Do you know of any clothing retail stores that have headquarters in New York? Please contact us with details.