In this section of the Apparel Search fashion guide, you will find information regarding men's fashion sold on eBay.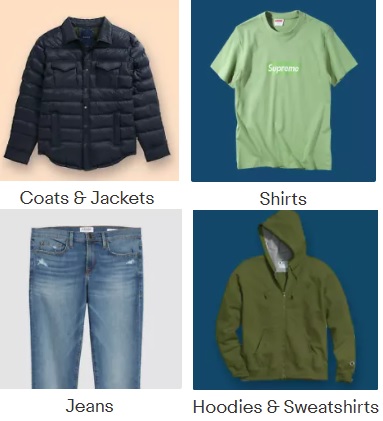 You may find the following categories of interest for further research.
Athletic Clothing for Men on eBay
Blazers & Jackets for Men on eBay
Discover Men's Fashion Marvels on eBay: Your Gateway to Style
eBay, the renowned online marketplace, has emerged as a hub for men's fashion enthusiasts, offering a diverse array of clothing and footwear through auctions. Whether you're searching for classic styles or the latest trends, eBay's platform is a treasure trove for every fashion-forward man. In this article, we'll delve into the popular categories of clothing and footwear, as well as spotlight some of the sought-after brands in men's fashion and sneakers available for auction on eBay.
Popular Categories of Men's Clothing and Footwear
Formal Wear and Suits
For the sophisticated gentleman, eBay offers a range of formal wear including suits, blazers, dress shirts, and trousers. Whether you seek a tailored fit or a classic look, the selection is vast, encompassing various styles and colors.
Casual and Athleisure Wear
Casual attire dominates eBay's offerings, with categories like t-shirts, jeans, hoodies, and activewear. Athleisure wear, combining comfort and style, has gained traction, making it a popular choice among men seeking versatility in their wardrobe.
Outerwear and Jackets
From rugged leather jackets to cozy parkas, eBay has an extensive collection of outerwear to suit every season. Whether you're after a fashionable overcoat or a sporty windbreaker, the choices are aplenty.
Footwear
Men's footwear is a thriving category on eBay. It encompasses formal shoes, sneakers, boots, loafers, and more. Shoppers can find offerings from renowned brands and discover unique styles to match various occasions and preferences.
Accessories
Complement your outfits with accessories like belts, ties, wallets, and hats. eBay provides a wide range of options to complete your look and add a touch of sophistication to your style.
Popular Brands of Men's Fashion on eBay
Nike
Nike is a leading brand in men's sportswear and sneakers. eBay hosts a variety of Nike products, including the iconic Air Max series, Jordan sneakers, and tech-infused athletic apparel.
Adidas
Adidas is another powerhouse in sportswear, offering a wide range of sneakers, tracksuits, and sportswear apparel. From the classic Superstar to the innovative Ultraboost, eBay provides a platform for Adidas enthusiasts.
Ralph Lauren
Ralph Lauren is synonymous with classic American style. eBay features an abundance of Ralph Lauren's clothing and accessories, from Polo shirts to tailored suits, allowing buyers to embody the brand's timeless sophistication.
Gucci
For those seeking luxury and opulence, Gucci stands out. eBay hosts auctions for Gucci clothing, footwear, and accessories, making it accessible for men who appreciate the brand's high-end designs.
Levi's
Levi's is a pioneer in denim fashion. eBay offers a wide range of Levi's jeans, jackets, and apparel, making it a go-to destination for those seeking timeless and durable denim pieces.
Sneaker Culture on eBay
Sneaker culture has witnessed a significant rise, and eBay has become a hub for sneaker enthusiasts. Collectors and sneakerheads can explore and bid on rare and limited-edition sneakers, ranging from Nike and Adidas to Yeezy and Jordan collaborations. eBay's platform provides an opportunity to find the perfect pair to complete any sneaker collection.
eBay is a treasure trove for men's fashion, offering a diverse range of clothing, footwear, and accessories for every style and occasion. With popular categories and a plethora of renowned brands, eBay provides a platform for men to redefine their style and embrace the latest fashion trends.
You can also find the following men's clothing categories on eBay. Visit their site to learn more about Dancewear for Men on eBay, Hosiery and Socks for Men on eBay, Shorts for Men on eBay, Suits for Men on eBay, Sweaters for Men on eBay, Sweatshirts & Hoodies for Men on eBay, Swimwear for Men on eBay, T-shirts and Tank Tops for Men on eBay and Vests for Men on eBay.
Learn about collectible fashion, limited editions & collectible shoes.
We hope that this section has helped you learn more about men's fashion on eBay.
Are you searching for men's clothing and apparel on eBay? Learn about Fashion Auctions.