In this women's clothing section of the Apparel Search directory, you will find all sorts of interesting information regarding Women's Basketball Shoes.
Welcome to the worlds greatest guide to Women's Basketball Shoes. Are you actually looking for Women's Basketball Shoes? Well, we hope you are because the reality is that you have found our Women's Basketball Shoes page.
As you probably already know, the sport of basketball is a sport played on a rectangular court and involves a great deal of running & jumping. While most often played as a team sport with five players on each side, three-on-three, two-on-two, and one-on-one competitions are also common. The objective is to shoot a basketball through a hoop that is mounted to a backboard at each end of the court. In order to play the game, players must run back & forth playing both offense and defense. Athletes must be in excellent condition, and so must their shoes. Wearing the proper sneaker is good for your game as well as you feet.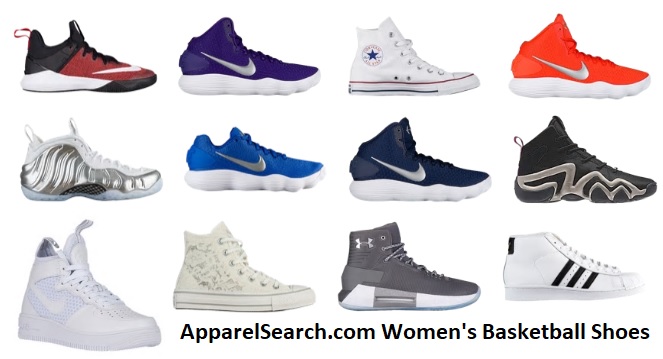 What is the definition of basketball shoes? First let's start with the definition of sneakers. Sneakers (also known as athletic shoes, tennis shoes, gym shoes, runners, takkies, or trainers) are shoes primarily designed for sports or other forms of physical exercise, but which are now also often used for everyday wear. The term generally describes a type of footwear with a flexible sole made of rubber or synthetic material and an upper part made of leather or synthetic materials.
The first basketball shoes were designed by Spalding as early as 1907. The U.S. market for sneakers grew steadily as young boys lined up to buy sneakers endorsed by football player Jim Thorpe and Converse All Stars endorsed by basketball player Chuck Taylor.
The high-top is a shoe that extends significantly over the wearer's ankle. It is commonly an athletic shoe, particularly for basketball. It is sometimes confused with the slightly shorter mid-top, which typically extends no higher than the wearer's ankle. High-tops also should not be confused with shorter-length boots such as ankle boots, since high-tops usually refer to athletic shoes.
Basketball shoes are the most important equipment associated with the sport. Modern advertising of the shoes is almost universally focused on the linkage of a particular brand with an identifiable WNBA superstar.
Basketball sneakers are also worn for fashion as well as sport. They can be trendy as well as collectible.
You can find ladies basketball shoes at footwear stores such as Foot Locker, Finishline, sporting good stores and department stores.
You may also have interest in checking out the women's high top basketball shoes and women's low top basketball shoes. While you are at it, you may want to check out the women's athletic shoes.
It may be a good idea to also learn about the following:
You may find the following footwear categories to be of interest as well.

Thank you for using the Apparel Search website.