Are you actually looking for information about cotton guayabera shirts for women? Well, we hope you are because the reality is that you have found our page on the subject.
The guayabera is traditionally a men's shirt but we don't see any reason why women can't wear this type of shirt as well. The shirt is distinguished by two vertical rows of closely sewn pleats that run the length of the front and back of the shirt. Typically made of lightweight linen or cotton, worn untucked, and appropriate for hot or humid weather, guayaberas are popular in the Caribbean (especially Cuba), Central America, and Southeast Asia.
Though traditionally worn in white and pastels, guayaberas are also available in many solid colors. Black guayaberas, embroidered with colorful flowers and festooned with French cuffs (about French cuffs), have for many decades been extremely popular in Mexico and are considered formalwear in some situations.
The design of a typical guayabera is distinguished by several details:
Either two or four patch pockets and two vertical rows of alforzas (fine, tiny pleats, usually ten, sewed closely together) run along the front and three along the back of the shirt. The pockets are detailed with alforzas that are identical to, and aligned with, the alforzas on the body of the shirt.
The top of each pocket is usually adorned with a matching shirt button, as are the bottoms of the alforza pleats. Vertical rows of adjusting buttons are often seen, one on each side, at the bottom hem. While most versions of the design have no placket covering the buttons, a few newer designs do.
The bottom of many shirts has slits on either side, and these include adjusting buttons. The bottom has a straight hem, and is never tucked into the trousers.
Guayabera shirts are comfortable, stylish and unique. What's a Guayabera? They are traditional Cuban Shirts, crafted to optimize air flow and fruit cargo, named after the Guava fruit. Look sharp in Guayabera shirts. Discover White Guayabera Shirts, Black Guayabera Shirts and more.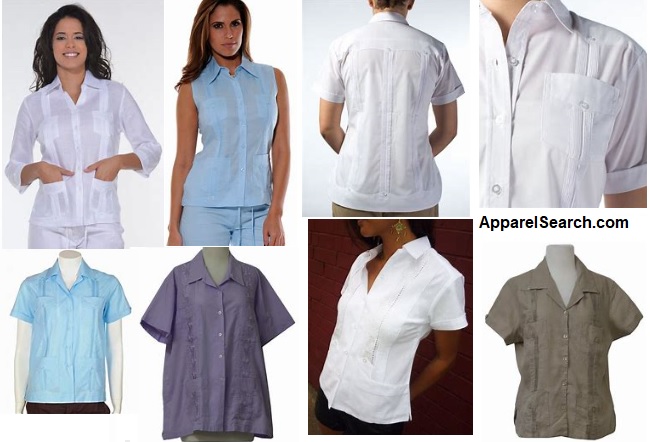 This type of shirt is often manufactured with cotton fabric. Learn the benefits of clothing made from cotton fabric on the fashion industry blog.
The next time someone asks you a question such as "
What is a Guayabera Shirt?
", you may be able to give them an answer.
Apparel Search is a leading guide to fashion, style, clothing, glam and all things relevant to apparel. We hope that you find this Women's Cotton Guayabera Shirt page to be helpful.
What ever you are wearing, is in fashion.
If you were not actually looking for women's shirts, you may want the Men's Guayabera Shirts page or the men's guayabera shirt wholesalers page.
Learn more about different shirt styles.
If you want to be even more stylish, you should wear your favorite ladies cotton Guayabera shirt.

You may find the following sections of our site to be of interest:
Thank you for using the Apparel Search website.