First of all, what is a sweatshirt? Then we can figure out what is a hood.
A sweatshirt is a loose, heavy shirt, typically made of cotton, worn when exercising or as leisurewear. They are simply fabulous for a wide assortment of casual activities.
Learn more about sweatshirts.
A hood is a kind of headgear that covers most of the head and neck. Hoods on a sweatshirt primarily cover the sides and top of the head, and leave the face mostly or partly open. This is obviously when the hood is actually pulled up on to the hood. When the hood is not actually on the wearers head it lays down on the wearers back.
What is a hoodie? A hoodie (also called a hooded sweatshirt, hooded jumper or hoody) is a sweatshirt with a hood. Hoodies often include a muff sewn onto the lower front, and (usually) a drawstring to adjust the hood opening.
A muff is a fashion accessory for outdoors usually made of a cylinder of fur or fabric with both ends open for keeping the hands warm. In regard to a sweatshirt, it really refers to the pockets. On some sweatshirts the pocket section is open so the hands can go thru to both sides like a muff. On others, they are sew shut. When wearing a zipper front sweatshirt, obviously their can't be an opening from one side to the other due to the zipper.

Cotton is a soft, fluffy staple fiber. The fiber is most often spun into yarn or thread and used to make a soft, breathable textile fabric for producing clothing. Being a breathable fabric is only one of the many advantages of using cotton for hooded sweatshirts. Learn more about the benefits of cotton fabric on the fashion blog.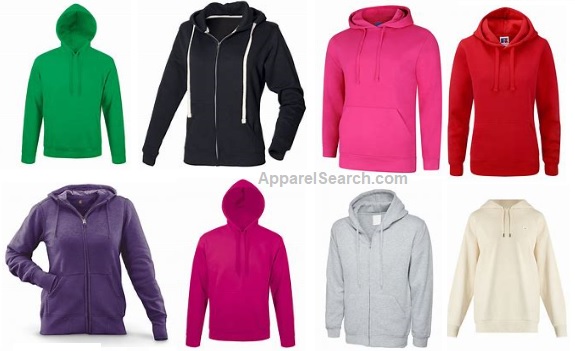 Apparel Search is a leading guide to fashion, style, clothing, glam and all things relevant to apparel. We hope that you find this Women's Cotton Hooded Sweatshirts page to be helpful.
What ever you are wearing, is in fashion.
If you want to be even more stylish, you should wear your Women's Cotton Hooded Sweatshirts.
You may also want to try the women's shirts and women's tops pages.
We hope that you have found enough women's cotton fashion to satisfy your needs.. If you are done with this section, you can return to the women's fashion guide for more choices. Or you can continue to learn about women's cotton fashion.

Thank you for using the Apparel Search website.