In this women's clothing section of the Apparel Search directory, you will find all sorts of interesting information regarding ladies cotton rib tanks.
A special knitting method can create a soft & sexy ribbed fabric with added dimension, elasticity and shape-retention—proof that style and comfort aren't mutually exclusive. Surface of the fabric has raised lines or ribs.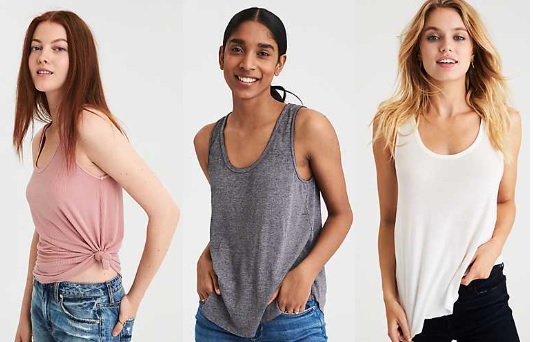 What does rib mean in regard to fabric?
Rib knit is a double-knit fabric that knits the fabric in vertical ridged pattern called ribbing and highly stretched in crosswise direction. Created through alternating rows of knit and purl stitches, rib knits feature ridges on both sides of the fabric. This knit lies flat due to the method of knitting and generally features more stretch in the width then the length. Rib knit fabric comes in several weights, colors, and widths.
The image below, the 1x1 rib is at a higher magnification than the other two photos.


1x1 rib : 1x1 rib knit construction is a pattern of one rib, one flat space, one rib, one flat space, etc. Both sides of this knit fabric look identical. 1x1 is more stretchy.
2x1 rib or 1x2. 1x2 rib knit construction is a pattern of one rib, two flat spaces, one rib, two flat spaces, etc. 1x2 rib knit has a chunkier appearance in comparison to 1x1 rib knit.
2x2 creates a larger, chunkier rib.
4x2 rib
and more options.
Baby Rib Knit – A 1x1 rib knit using a fine knit construction for a softer hand feel and delicate stretch that retains its shape. The super soft 1x1 baby rib knit is typically featured in form-fitting garments such
Many t-shirts feature rib knit in the collars as well as in the cuff due to the ideal amount elasticity in this fabric. Some shirts shirts as tank tops can have the entire body of the garment made of rib fabric.
Cotton knit ribbed fabric creates visual interest as well as stretch to the fabric.
In knitting, ribbing is a pattern in which vertical stripes of stockinette stitch alternate with vertical stripes of reverse stockinette stitch. These two types of stripes may be separated by other stripes in which knit and purl stitches alternate vertically; such plissé stripes add width and depth to ribbing but not more elasticity.
Ribbing is the general term for any knitting pattern that results in vertical columns of knit and purl stitches. Single Rib or knit 1, purl 1 ribbing is one of the most common types, along with Double Rib or knit 2, purl 2 ribbing, but there are many other options including Slip Stitch Ribbing, Embossed Moss Stitch Rib, and Mock Cable Rib to name just a few.
To produce larger and more complex knitted items, such as garments, domestic and industrial machines, with either flat or circular beds, producing rectangular or tubular fabrics, respectively, are needed. Double bed machines have two flat beds facing each other, in order to produce purl and plain rib fabrics plus a variety of multi patterns. Ribbing attachments can be added to single bed machines to achieve a similar result.
What is cotton? Cotton is a soft, fluffy staple fiber. The fiber is most often spun into yarn or thread and used to make a soft, breathable fabrics. The fabric is often used to produce a wide variety of shirts including tank tops. Cotton can feel cool and crisp to the touch, and the organic nature makes it extremely breathable. Learn about the many benefits of cotton fabrics on the Fashion Blog.
What are tank tops? A tank top is a close-fitting sleeveless top. Essentially it is sleeveless shirt with low neck and different shoulder straps width. It is named after tank suits, one-piece bathing suits of the 1920s worn in tanks or swimming pools. Learn more about tank tops in our fashion influence section.
Tank tops have also been referenced as wife beaters (wife beater shirt terminology). When women wear them, they can be called husband beaters instead.
Learn about different types of t-shirts.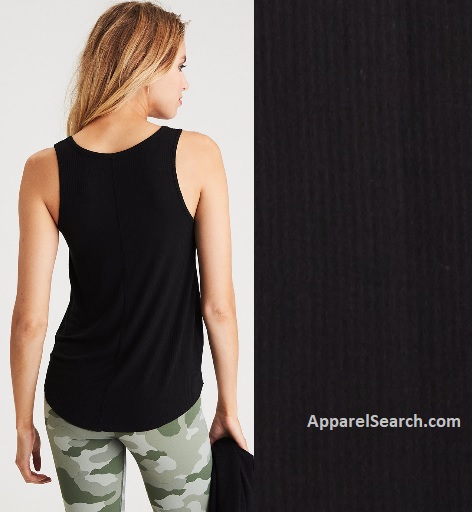 Apparel Search is a leading guide to fashion, style, clothing, glam and all things relevant to apparel. We hope that you find this Women's Cotton Rib Tank Tops page to be helpful.
What ever you are wearing, is in fashion.
If you want to be even more stylish, you should wear your Women's Cotton Rib Tank Tops.
You may want to also visit the women's solid cotton rib bikini underwear page if you enjoy cotton rib fabrics.

Return to the top of this women's cotton rib tank top page.
Learn more about women's cotton fashion options.
Return to the Women's Clothes Directory C main page.
Thank you for using the Apparel Search website.