A shirt is a cloth garment for the upper body (from the neck to the waist). They can obviously be made by using a wide variety of fabrics. fabric can be made from a wide variety of fiber options. One of which would be cotton. Within the cotton category, textile mills have a variety of options at their disposal. One of which would be Egyptian cotton. So, what is Egyptian cotton and why is it used to make a fine garment?
Egyptian cotton simply refers to a country where cotton is grown and does not refer to any variety or quality considerations. This is the same as saying Australian cotton, Peruvian cotton or US cotton. However, Egyptian cotton that is made of extra-long staple fiber can create a softer hand fabric.

Gossypium barbadense, also known as extra-long staple (ELS) cotton, is a species of cotton plant that has been cultivated to have ELS fibers – fibers longer than 34 millimeters (1 3⁄8 in) – which are associated with high quality cotton fabric.
Staple refers to fiber of discrete length and may be of any composition.
Staple length, a property of staple fiber, is a term referring to the average length of a group of fibers of any composition. Staple length depends on the origin of the fibers. Natural fibers (such as cotton or wool) have a range of lengths in each sample, so the staple length is an average.
Staple length is an important criterion for spinning fiber, as shorter fibers are more difficult to spin than longer ones, so staple length varies from short to longer length fibers, short fibers also resulting in more hairy yarns.
Egyptian cotton grows as a small, bushy tree and yields cotton with unusually long, silky fibers.
Varieties of ELS cotton include: West Indian Sea Island Cotton Association (WISICA) Sea Island, American Pima, Egyptian ELS Gizas, Indian Suvin and Chinese Xinjiang.
The term Egyptian cotton is usually applied to the ELS cotton varieties produced in Egypt (Giza 45, Giza 70, Giza 77, Giza 87, Giza 88, Giza 92, Giza 93) and used in luxury and upmarket brands worldwide.
Women's blouses, t-shirts, and other tops can be produced using Egyptian cotton.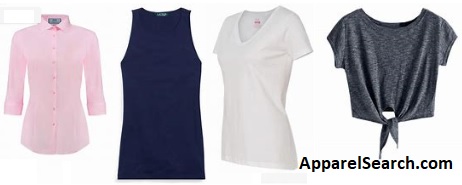 Apparel Search is a leading guide to fashion, style, clothing, glam and all things relevant to apparel. We hope that you find this Women's Egyptian Cotton Shirts page to be helpful.
What ever you are wearing, is in fashion.
Women's Egyptian Cotton Apparel
Women's Egyptian Cotton Clothes
Women's Egyptian Cotton Clothing
Women's Egyptian Cotton Shorts
Women's Egyptian Cotton T-shirts
If you want to be even more stylish, you should wear your Women's Egyptian Cotton Shirts.
You may want to visit our apparel industry terminology section to learn about different types of shirts and different styles of t-shirts.

Return to the top of this Women's Egyptian Cotton Shirt page.
Thank you for using the Apparel Search website.