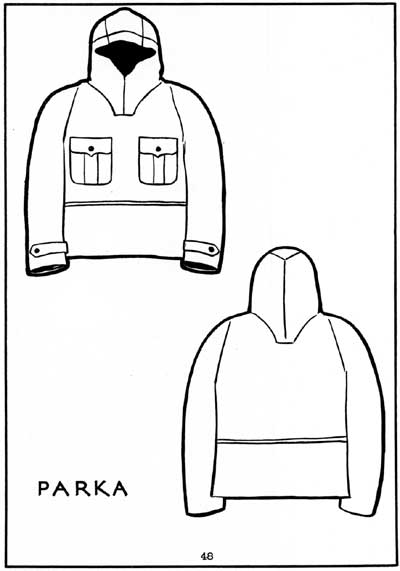 An
anorak
or
parka
is a type of heavy jacket with a hood, generally lined with fur or fun fur, so as to protect the face from a combination of freezing temperatures and wind.
Originally invented by the Inuit, who needed clothing which protected them from windchill and wet, while hunting and kayaking in the arctic region. Underneath the anorak the Inuit wear warm clothes. Inuit anoraks have to be regularly soaked with fish oil to keep their water resistance. Today, the jacket is named after it because it attempts to be just as waterproof.
Although of Inuit origin, the word "anorak" is mainly used in Britain, while "parka" is the almost universal name in the United States and Canada. "Parka" is used interchangeably with anorak in Britain. An anorak or parka specifically implied a pull-over jacket without a zipper, button or frogged opening, but this distinction is now largely lost. In the marketing of outdoor clothing in America, parka refers to a jacket with a full-length zipper, while anorak refers to a pull-over jacket with a half-length or less zipper from chin to mid-chest.
Diagram of the parka part of an early
National Parks Service uniform