We hope that you enjoy reading about fashion events. Below you will access to some of our past articles:
The amazing George Michael concert and gala dinner "Symphonica", which took place at the Garnier Opera to raise funds for Sidaction, a foundation which fights against AIDS, was fully booked with 2.000 guests and vibrant energy.
After the concert, the jeweler Cartier offered an exquisite dinner where George Michael, Pierre Bergé, president of Sidaction, and Line Renaud, vice president, welcomed 250 guests of honor in the ballroom of the Garnier Opera. The auction sales soared with four different prizes, including a Renault Twizy electric vehicle custom designed by designer Christophe Guillarmé. The event raised 289.000 euros to fight AIDS.
You may also have interest in reading our previous fashion event article called Dressing Christophe Guillarmé.
Learn more about Christophe Guillarmé at his official website.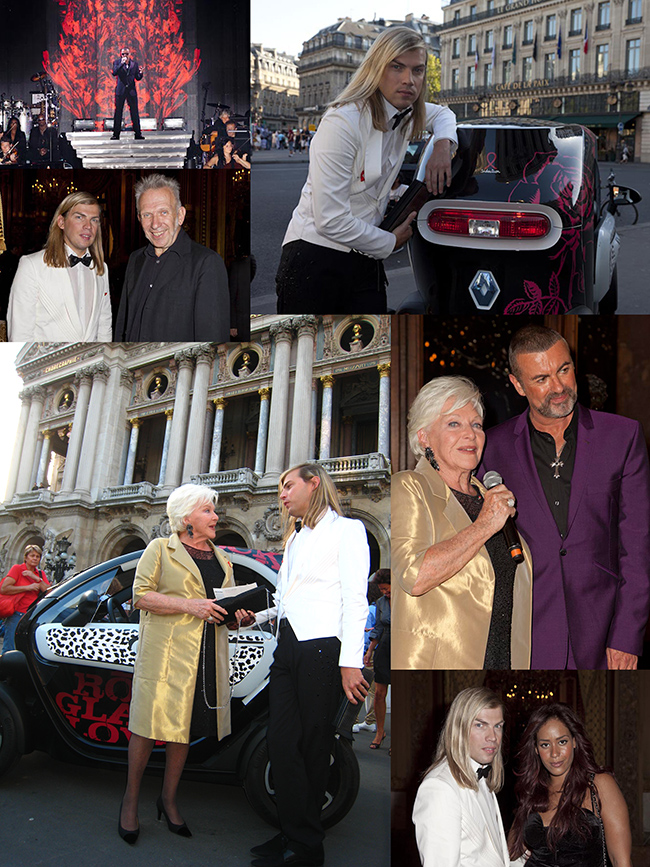 If you have enjoyed this news article, you are welcome to further discuss this event or any other fashion news at the Fashion Industry Network. You can go to the Groups section on that site, and then you will find the fashion events group. That is a perfect place for discussing your favorite industry happenings.

If you wish to visit other sites that provide news about fashion events, you are welcome to try the Fashion Newspaper, Fashion News Articles, or Fashion Articles websites

Due to the fact that you are reading this article, we assume that you enjoy fashion events as much as we do. If that is correct, you will simply love "fashion week" events. Here are a few links to help you learn more:
Read previous fashion event news articles from our news archive: Fashion Event Articles 2011
If you would like to review additional categories other then event news, you can research previous fashion news reports from these links: 2012 Fashion Articles 2011 Fashion Articles, 2010 Fashion Articles and 2009 Fashion Industry Articles.

Here are a few fashion calendars that you may find helpful if you are would like to attend an event:
Fashion Industry Calendar
Fashion Calendar
If you work for a fashion designer, popular fashion brand, or fashion event organizer, you are welcome to list your events on the calendar.
You may want to read fashion blogs to learn more about fashion events. Fashion bloggers typically do a good job with reporting on fashion events. If you happen to fancy yourself a Fashion Writers, you are welcome to test out the fashion blog at FIN.