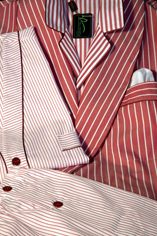 For the man who likes to keep an elegant look in any circumstance without renouncing to be comfortable, Villa Delmitia propose an Homewear Collection inspired to a timeless style derived from an heritage of high Italian tailoring. All the items are realized with precious fabrics: cashmere, silk, linen, cotton, wool, angora, in a wide range of classic colours and new trend shades as light blue, navy, burgundy, orange. For an exclusive elegance never goes out of fashion.
High level Homewear Manufacturer: pyjamas, dressing gowns, night shirts, smoking jackets, fashion accessories: silk scarves backed cashmere, ascots, bow-ties, boxer shorts, plaids. Summer collection: bathing robes, beach towels, bathing suits, swim trunks, and bermudas.
VILLA DELMITIA is an Italian Homewear Manufacturer created by the experience and inventiveness of its founder
Ennio Carta - who has brought into the Company, assisted by his sons Dario and Francesco, his own creativity and ability ripened during many years of activity in this field.
Since the beginning , VILLA DELMITIA was recognized as a producer capable to realize items that can be considered the maximum expression of technical and skilled Italian ability.
VILLA DELMITIA's garments attract a man who prefers the classic style with comfort and elegance in any circumstance throughout the day. The precision cut, tailoring and details made VILLA DELMITIA's articles valued by its own clients composed of important and famous Boutiques and Stores located throughout the world: Europe, U.S.A, Canada, Russia, Japan, United Arab Emirates.
Villa Delmitia s.r.l Via Tortona, 31
20144 Milano
Phone: +39 02 4771 1085
Fax +39 02 4771 1099 www.pigiamiditalia.it
info@pigiamiditalia.com
Learn more about Men's Fashion and read more menswear news.
Women's Fashion Brands Men's Fashion Brands Children's Fashion Brands


2009 Fashion Articles - January 2009 Fashion Articles, February 2009 News, March 2009 Articles, April 2009 Apparel News, May 2009 Apparel News Articles, June 2009 Fashion News Article, July 2009 Fashion News Article, August 2009 Fashion News Articles, September 2009 Fashion News, October 2009 Fashion Articles, November 2009 Fashion News Articles, December 2009 Fashion Articles




Search for additional information about Apparel, Fashion or Clothing.

You may also have interest in the fashion shopping articles ...

Shopping For Children's Clothing


Have you ever dreamed of becoming a fashion designer?

Submit articles to the Fashion Newspaper.

Apparel Search Add Your Company Contact Us About Us Advertise News Letter Legal Help
Copyright © 1999-2019 Apparel Search Company. All Rights Reserved.