The Ego Soleil woman works hard and plays hard, she is confident! Her style is ever evolving and she is drawn to vivid colors, sexy fitting fabrics and high fashion designs, which capture color as the essence of vibe and mood. It's no wonder she will be drawn to one of this Spring's hottest colors – Yellow. Ego Soleil chose to select the perfect shade for its bold fashion mavens; such vibrance embodies every bit of woman as she blends with every sunrise and sunset.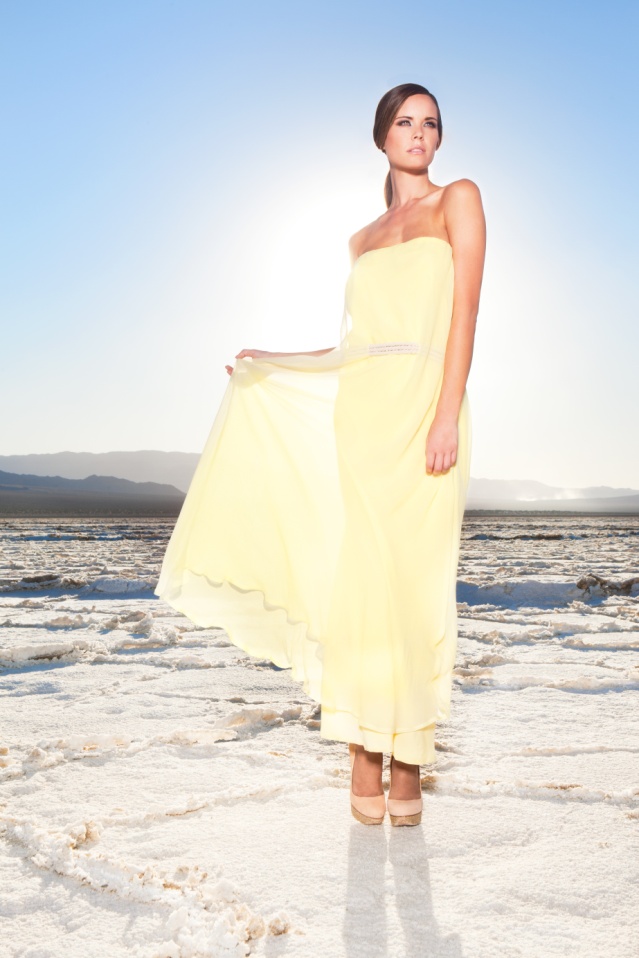 The color of confidence and clarity, yellow is beaming down runways around the world this Spring and Summer. In fact, you won't go unnoticed in the perfect hue. Some say yellow can relieve stress and bring peace… what can be better when you are dashing from the office to the perfect rooftop party to catch the sunset feeling fully self-expressed?
The bold, yellow pieces featured in the 2012 Ego Soleil Collection bring a burst of culture and sophistication to women's fashion. This delicate line gives the modern woman flexibility to with versatile designs she can wear confidently from the office into the evening.
Ego Soleil represents an evolving culture, allowing women to use inspirations from the past to move forward progressively. The Spring/summer 2012 collection enables women to liberate themselves from the confines of societal norms and embrace the elements that make them unique.
Ego Soleil fuses classic colors with an edge, bringing the sophistication of color against a palette of white and sandstorm, grounding the soul and uplifting the spirit. The fresh pops of bright yellow and ice blue embolden us to face every day with confidence.
A bit of androgyny with subtle references to twenties, forties, and sixties, the patterns are cut into fabrics that present an expression of character, forcing you to sit up and pay attention; to deconstruct the familiar.
Design details like rope and nylon cords update feminine fabrications reflecting the wearer's independence and strength while framing her elegance and grace. For more information please visit egosoleil.com.
Read more fashion news articles from 2012: January 2012 Fashion Articles
Read more fashion industry news archive from 2011: 2011 Archive Fashion Articles
Read more fashion articles from 2010: 2010 Archive Fashion Articles
Read more fashion articles from 2009: 2009 Archive Fashion Articles

Here on Apparel Search you can learn more about
fashion
in many various ways. Certainly, one way is to read fashion news articles.

If you have suggestions on ways that we can improve this page, please do not hesitate to let us know.