OK, Naleigh maybe too young to officially be a fashion celebrity. However, she is seen in public, she is photographed, and she does get into magazines etc. Therefore, Katherine Heigl's daughter appears to be well on her way to becoming a fashion celeb.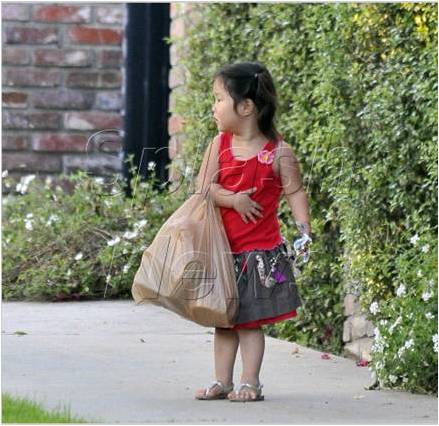 Katherine Heigl's daughter, Naleigh, wore Eliane et Lena while out and about in Los Feliz, CA, over the weekend. The cutie looked adorable toting groceries in her Eliane et Lena skirt (price available upon request). Eliane et Lena is Hollywood's favorite children's line, with other fans including Courteney Cox, Nicole Richie, Katie Holmes, and Heidi Klum!
Learn more about Katherine Heigl.
By the way, if you are interested, you can see Katherine wearing Earnest Sewn jeans.
Read more fashion news articles from 2012: January 2012 Fashion Articles
Read more fashion industry news archive from 2011: 2011 Archive Fashion Articles
Read more fashion articles from 2010: 2010 Archive Fashion Articles
Read more fashion articles from 2009: 2009 Archive Fashion Articles


You may also find the following links to be of assistance:

Fashion Jobs
You may also have interest in the fashion shopping articles.
If you are tired of simply reading about fashion, you may want to take a break and do a little shopping. If that is the case, you are welcome to visit our shopping section from the links below:
Shopping For Children's Clothing

Here are a few more apparel news resources that you may enjoy.
Have you ever dreamed of becoming a fashion designer?