Welcome to the worlds greatest guide to Women's Accessories. In this women's clothing section of the Apparel Search directory, you will find all sorts of interesting information regarding Women's Accessories. Although our directory covers all aspects of the fashion industry, we find that discussing women's clothing and women's fashion accessories is more fun then dealing with textile machinery, garment hangers, woven labels etc. Therefore, we have spent a great deal of time developing this section to help you learn about women's apparel. More specifically, this section is to help you learn about Women's Accessories.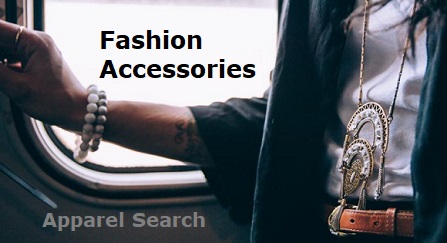 When discussing accessories we are talking about bags, eyewear, gloves, headwear, jewelry, shawls, umbrellas, watches, hairbands, etc.
A fashion accessory is essentially any item used to contribute, in a secondary manner, to the wearer's outfit, often used to complete an outfit and chosen to specifically complement the wearer's look.
What is a women's favorite fashion accessory? Wow, that is an impossible question to answer. Some women enjoy handbags beyond belief and others enjoy scarves, necklaces, or earmuffs. The list of exciting accessories may be too vast to determine an absolute favorite. Do you have a favorite?

Check out the women's fashion accessories page.
The term "fashion accessory" came into use in the 19th century.
Did you know that accessories of an accessory could be embellishments.
If you are interested in fashion, style, and a glam lifestyle, you will be interested in Women's Accessories. You know, I bet you would look good wearing Women's Accessories.
Women's Clothing Directory Pg. 3
We hope that this guide to women's clothing categories has been helpful for your research. Hopefully you found the fashion styles that you were searching to locate.
Thank you for using the Apparel Search website.