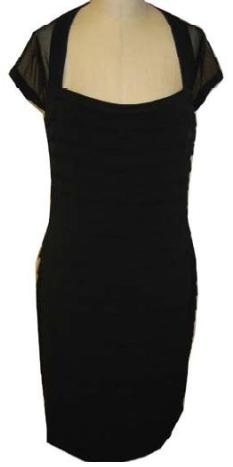 As we update our wardrobes for spring the hotels are following suit, partnering with designers to create new flattering and fashion-forward uniforms to make their staff stand out among the fashionable crowd. This spring, Maggy London has collaborated with Hotel Roger Williams to revamp the look of the Lounge Roger cocktail waitress, updating the traditional uniform with a wardrobe classic the Little Black Dress.
As one of Manhattan's most stylish destinations, Hotel Roger Williams turned to Maggy London to help create a look that is both chic but practical. Maggy London rose to the occasion by creating a black matte jersey cocktail dress with a square neckline and sheer sleeves to outfit the staff (see attached). Stylishly demure with a chic edge, the dress embodies the aesthetic of the Hotel Roger Williams.
Read more news about Maggy London.
Golden Globes Fashion Looks For Less : Maggy London
Fashion Article Posted January 23, 2009
Miranda Wearing Maggie London - Catch the SATC Buzz... Fashion Article Posted June 11, 2008
January 2009 Fashion News Articles
February 2009 Fashion News Archive
March 2009 Fashion Article Archive
June 2009 Fashion News Archive