How to keep your cool during hot summer day?
The summer has finally arrived and We've been warned to protect ourselves. Keep the curtains closed, wear sunscreen, a hat, stay in the shade, and drink plenty of water.
Jolita Jewellery
suggests a different way of keeping your cool in a hot summer day - by wearing unique jewellery designs that are made to stand out in the crowd.
New pieces are available in the unisex collection Boreas and a feminine line Aglaia. To adjust to bright sunny days, new jewels are made by mixing vibrant colors: red, turquoise and copper with recycled silver chains. And staying true to our love for all things old
pieces are adorned with vintage market finds.
Aged sterling silver chains give a worn vintage look and a mix of coral and turquoise was selected based on ancient belief that a combination of these two semi-precious stones wards off evil spirits. Choose from a selection of bracelets and necklaces, created for your enjoyment.
And that's not all. To make our collections more interesting Jolita Jewellery has created a selection of limited edition rings. Made of vintage chain each ring will look very cool on one's finger. Exactly what you need on a hot summer day!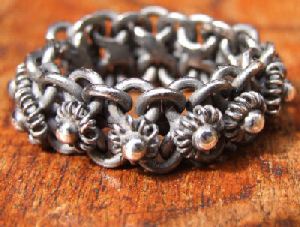 Visit
JolitaJewellery.com online boutique
to see all available pieces.
Jolita Jewellery Naiads Collection Relaunched
Fashion Article Posted May 26, 2009
Read more jewellry news.