Why pretend to be a princess for a day when you can arrive adorned with the regalia of a queen? A growing number of brides are referencing their heritage for bridal inspiration from the ancient thrones of Africa. They are taking their cues from Cleopatra, Nefertari, Makeda, and Queen Kahina of Egypt.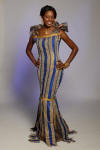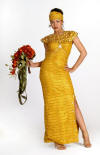 Upholding such high expectations is challenging, yet can be found in the crafty hands of a soft-spoken dress designer working in Texas. TeKay Designs by Kimma Wreh is committed to serving brides who's dreams command that symbolism, prosperity, heritage, and culture be packaged and delivered in a collection of garments. Kimma has been designing ethnic formal wear and bridal gowns for over fifteen years.

"I'm approached by more and more brides who want to return to their roots to feel connected to their heritage"

explains Kimma.

"I began designing ethnic fashions because I received such a warm reception in the US by people complimenting the dresses I had created for myself. I've traveled throughout the world from Latin-america to India and in various African countries. I admire the creativity of the local artist. I've always been inspired by the craftsmanship of the local artists when traveling back to my country of Liberia. I realized that the hand-made work the people were doing was so well crafted, that I was moved. So, in 1996, I began my business to produce authentic ethnic fashions for brides in the western world. I not only design the gowns, I create a complete set of ladies dresses and formal menswear tailored for the bridal party!
I employ handmade construction by African artists to produce authentic African-inspired and ethnic bridal and formal attire.



There are different variations of the ethnic design types. The traditional African consumer whom I've experienced in Ghana and Liberia prefers what's referred to as the "buba and the lappa". The buba is a loose fitted blouse and the lappa is a wrap-around skirt. The attire is finished with a head-tie or Gele atop the crown. However more upscale consumers are wearing high-end cotton prints. The trends out of Europe by African Fashion Designers is to incorporate fitted cotton prints with multi-colors; mixed with a solid colored fabric and often finished with lace. These western trends are now influencing the indigenous Designers emerging out of Africa. The popular trends I'm seeing on the catwalks by my designer colleagues in Africa are incorporating inspired elements from other cultures. I'm seeing use of fabrics and ornaments which are traditionally from India or Asia and even Latin-america.





Consumers in the United States tend to prefer a westernized fit to the garment, with an ethnic finishing to it. They like to see some cultural aspects such as the embroidery, the fabric, and the use of beads, cowrie shells and symbols which are reminiscent of their heritage. These elements bring back their culture, even though they may be wearing a design cut that's very westernized in its material and fit. Many of my customers want something more colorful than the traditional white bridal gown. Color is often symbolic. For example, gold is for wealth, red for the strong blood-lines, green for the land and good health.

" states Kimma.

In the world of ethnic fashions, brides are investing into something more than a dress. The ethnic fashions display their identity, so this becomes a theme for the entire wedding. Ethnic fabrics and symbols are often used to accessorize theme weddings and leave a lasting impression. Ethnic accessories such as bouquets, headpieces or sashes are used to compliment the bridesmaids and flower girl's attire. The groom's outfit is usually color coordinated with the bride's wedding gown. A common ethnic trend worn by groomsmen is the sleeveless agbada suit sometimes worn with a kente shoulder-wrap, hat, handkerchief or tie. Ethnic couples are investing into something that represents their family history; and must transcend down through future generations. Cultural pride is a value that you can't put a price on.

Here on Apparel Search you can learn more about Fashion in many various ways. Certainly, one way is to read fashion news articles.
If you have suggestions on ways that we can improve this page, please do not hesitate to let us know.
Read more fashion industry news archive from 2011:
February 2011 Fashion Articles
April 2011 Fashion News Articles
June 2011 Fashion Article Archive
July 2011 Fashion Article Archive
August 2011 Fashion Article Archive
September 2011 Fashion Article Archive
October 2011 Fashion News Article Archive
Read more fashion articles from 2010: 2010 Archive Fashion Articles
Read more fashion articles from 2009: 2009 Archive Fashion Articles


You may also find the following links to be of assistance:
You may also have interest in the fashion shopping articles ...
If you are tired of simply reading about fashion, you may want to take a break and do a little shopping. If that is the case, you are welcome to visit our shopping section from the links below:
Shopping For Children's Clothing

Here are a few more news resources that you may enjoy.
Have you ever dreamed of becoming a fashion designer?