Fratelli Rossetti presents "Milano" the lace-up that celebrates the reopening of the boutique in Via Montenapoleone.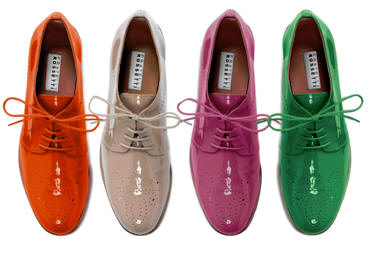 Saturday the 31st of March was the reopening of the boutique at 1, Via Montenapoleone. This timehonoured address is a reference point in the style world and indeed for Milan as a whole: in fact it was the first home of Fratelli Rossetti.
"Milano" is an urban chic lace-up, and has been designed especially to celebrate this occasion. Made in patent leather, it comes in a range of dazzling, bright colors: navy blue, cyclamen, powder pink, meadow green and orange.
"Milano", features a contemporary design, extremely soft leather and hand-perforated uppers that together underscore all the qualitative features that have long set Fratelli Rossetti apart.
Craftsmanship and style also characterise the new concept of the boutique designed by French architect François Muracciole: each and every element and detail of the shop has been designed to express the art of creating footwear, and the essence of Fratelli Rossetti.
The location is a historical reference point for Milan's inhabitants, and now it has changed its look and strengthened its own identity: in fact the restyling is inspired by the lifelong work of the artisan, and each and every detail is analysed to reflect the brand's values. The essence and style of Fratelli Rossetti are expressed through a number of furnishing elements designed for the boutique by French architect François Muracciole. In the entrance, visitors are welcomed by an original leather floor which evokes one of the materials the company has always used most. The base on which the iron and glass display surfaces stand is inspired by the movement of the dies used to cut the leather by hand: all under a paper ceiling that creates a soft, cloud effect.
The boutique has a display area of around 200 m², spread out over 3 storeys. The ground floor and first floor are dedicated to displaying the products, whilst the second floor is given over to the "Su Misura Uomo" (tailor made) project, the new sartorial service being offered by Fratelli Rossetti. The project was conceived to satisfy even the most demanding customers in search of a product made by hand, in keeping with the company's tradition, and modelled to suit the individual's needs.