BEAUTYFOOD, is the slogan and concept of the Moschino CheapAndChic Spring/Summer 2012 collection which will launch in Moschino boutiques with an indoor event that will take place in New York City, London, the city chosen for the upcoming Moschino CheapAndChic fashion show, as well as boutiques in Milan, Paris, Rome and Berlin.
The touring event, which had debut on 12th and 13th of February to coincide with New York Fashion Week, will then move to London Fashion Week, on 16th, 17th and 18th February, then Milan Fashion Week, on 23rd and 24th February, before it reaches Paris, Berlin and Asia.
Guests invited to the event will have the chance to experience the BEAUTYFOOD atmosphere and enjoy nature's simple beauty. A specially created market stand will hold delicious fruit and vegetables and sit side by side with the CheapAndChic Spring collection including the Strawberry Dress and wedges with a "fork" strap.
Especially for the event, guests will be able to try beverages made from fresh fruit and vegetables and leave the boutiques with small bags full of complimentary fresh produce.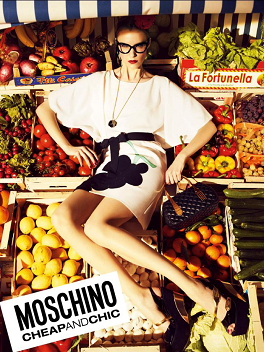 Have you seen Kimberly Perry wearing Moschino on the Ellen Degeneres Show.
Read more fashion news articles from 2012: January 2012 Fashion Articles
Read more fashion industry news archive from 2011: 2011 Archive - Fashion Articles
Read more fashion articles from 2010: 2010 Archive - Fashion Articles
Read more fashion articles from 2009: 2009 Archive - Fashion Articles

Follow us on Social Networks:
Follow Apparel Search on Twitter
Follow Apparel Search on Youtube
Follow Apparel Search on Facebook
Fashion on Google+
If you want your press releases about fashion to be published, you are welcome to submit them to Apparel Search at any time. In addition, you may want to submit your articles to the Fashion Newspaper.

Search for additional information about Apparel, Fashion or Clothing.